Jelly Bean Bandits
Mirror Music (Jelly Bean Bandits)
By: Gary "Pig" Gold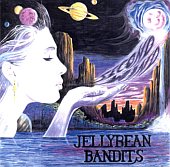 Over a solid gold hour's worth of frat-happy, beer-and-twelve-string-drenched all-Americana as recorded completely live at the Buccaneer Nightclub in Poughkeepsie, NY.

Yes, "Mirror Music" provides one supremely evocative snapshot of the State of the Art as of the night of September 3, 1967: when Rock and Roll was quickly becoming Rock, the hair (not to mention solos) were becoming increasingly long and unruly, and the Jelly Bean Bandits played and sang it all, six nights a week, over at the local roller rink. Now it seems the boys had been out merry-making VERY late the night before this set was taped (as the running-almost-out-of-steam "Mustang Sally," to say nothing of the deliciously ragged vocals on "She'd Rather Be With Me" surely attest), but the recreations of "Baby Let's Wait" and especially "You Keep Me Hanging On" herein are little short of absolutely brilliant --to say nothing of a "Satisfaction" that practically shreds the Stones with one fuzzbox tied behind their backs.

Additional surly stabs at the whitebread soul of the time ("Walking The Dog," "Wake Me Shake Me" and, you betcha, "Little Bit Of Soul") all mixed with the wonked-up zaniness of Paul Revere's original Raiders (check out the Zappa-ed take on "Soulfinger," not to mention the between-song "locker room patter" throughout, as Mike Love not war would call it) and you simply got here a three-chord document that oh so easily stacks clear alongside "Kinks Live At Kelvin Hall" and even, dare I suggest it, "Beach Boys Concert" in the Original Artyfacts from the Era sweepstakes. Now, if only someone out there would officially reissue the Bandits' (far from) Mainstream debut album next!