Propain
Fistful Of Hate (Candlelight Records)
By: Vinnie Apicella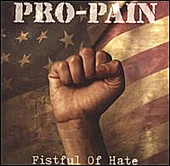 Heavy metal's street lethal freedom fighters, Propain, a model of annual consistency, both in art and output, let another loose in typically toxic fashion and twelve years strong still keeping it real, rude and raw. There's been no looking back since the days when "Foul Taste Of Freedom" first burned a hole in the scene. Following up on last year's surprisingly impressive "Run For Cover" tribute album, that hit on influences ranging from Celtic Frost to Slayer to Black Flag, "Fistful Of Hate" is unquestionably Propain's most intense and advanced work on all fronts and could emerge as the most important album in their six figure selling career.

Letting loose with a verbal barrage aimed against governmental misdoings in the wake of war and apolitical rhetoric that's to many, akin to the decaying of this "dream" once held so dear, Propain's raising a fist in delivering a message of "Hate" towards those in charge while raising a voice in support of the people who've supported them all these years -- don't count them out.

Where their last album of new material, "Shreds Of Dignity" featured a fast-paced fly-by round of music of equally angry resolve in the wake of 9/11, "Fistful Of Hate" revolves around a similar post-occurrence revulsion and it's clearly defined in the music, often more Pantera-ish in brutality than the customary Meskil-led Hardcore with metallic grooves and sharp hooks. While listeners might miss a little of the usual catchiness they'll surely be awed by the increased depth and instrumentalism that follows the dissonant diatribe of tunes like the punishing opener, "Can You Feel It?", the mosh-worthy "Left For Dead" and "Cut Throat," and the expected anthems, "Implode" and "Aftermath."

The production is very hands-off, the mix meat-less, which is to say, expect very little of the density that appeared on albums like "Act Of God" or "Round Six," this is comin' straight at ya from the underground. Ironically, yet sparingly, the most intense edition of Propain also features some unexpected arrangements and sung vocals that accentuate songs like the adversarial "Godspeed" or the psychotic/melodic leanings of the punishing instrumental, "The Better Half Of Forever," which should go down as one of their defining moments. Conversely, the concluding title track cuts the current U.S. administration to ribbons with a flood rush of rage.

Experimentalism combines with the extreme and the voice of vehemence shouts loud amongst the rest, signaling a new degree of aggressive design for these most accomplished veterans of the post-Thrash street scene who continue to set the standard for top flight Hardcore bore of guitar riffs, guts and glory.