SHOW REVIEW: The Presidents of the United States of America
The Presidents of the United States of America deliver a good time to their stupid fans (PUSA's website)
By: Brad Halverson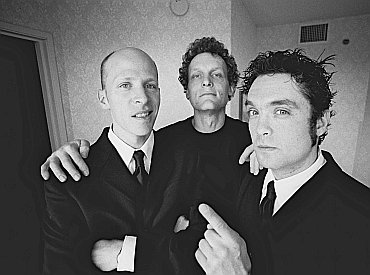 Even folks like myself who enjoyed the hell out of the first Presidents of the United States of America album weren't surprised when they faded into obscurity after society finally got that friggin' "Peaches" song unstuck from our collective head. Sure, the album was teriffic, but these were novelty songs dadgummit, and since these guys managed to pull off a few hits in quick succession, they were more than overdue to fade into obscurity along with Buckner and Garcia. Of course, there's a lot more going on in the President's music than we might give them credit for.

The fact is that these guys really have solid songwriting chops, and they succeed not despite of their jokeyness, but partly because of it. These guys are cool enough to completely disregard being cool in favor of just having fun, and while their songs lack the complexity, or subtle emotional depth of other light-hearted bands like They Might Be Giants, or Ween, the sheer simplicity of this stuff is more than refreshing. No wonder I liked them so much when I was 15.

Speaking of which, judging from the audience at PUSA's March 20th show at the Crystal Ballroom, the bands' fanbase hasn't aged a bit. I was among the eldest attendants in the alcohol free side of the room at the ripe old age of 22, though I was a mere pup compared to some of the parents who were dragged to the show by their little nosebleed kids. There was this one kid who hung on to his Mom's purse strap through the entire first opening act (The atrocious Anna Oxygen. Honestly, I kind of wished my Mommy was there too.) But hey, the kids were in good spirits and that's what counts, a President's show should be all about fun right? Right.

And the band was more than ready to deliver just that. In fact, aside from the aforementioned disaster that was Anna Oxygen (I think she lost me when she started rapping about her broken DVD player) the whole night was (almost) nothing but good times. Just as Miss Oxygen broke everyones' spirits, the first patriotically band of the night, The United States of Electronica appeared and put everyone in a good mood. Regardless of how you feel about electronica, you can't help but enjoy these guys. Combining garage rock guitars and electronica with simple pop songwriting, the band sounds kind of like a really happy version of the Rapture except with none of the posturing and a better singing. Come to think of it, they sound nothing like The Rapture so forget I even mentioned them. Sure their songs all sounded really similar, but it was more than obvious that these guys are really talented. Hell, they even have a rapping drummer, which sounds like a really bad idea, but it all works. Plus the guy on the keyboards had the same hairdo that Bono had in the 80's. Rock on.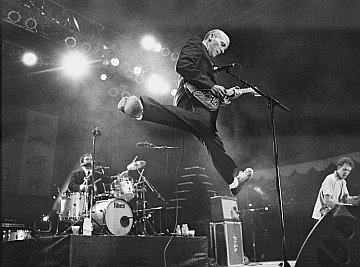 Once the Presidents arrived on stage though, it became clear that I had forgotten one of the central traits of the 15 year olds surrounding me: 15 year olds are really stupid. The second the band opened with "Kick Out the Jams" the moshing began. The moshing. At a Presidents show. Am I the only one that finds that really weird and stupid? How the hell do you mosh to these songs? And even though it seemed to calm down after the first few songs, it never really stopped. As the pubescent, pimply faced, crowd surfers, and stage divers, were gradually dragged off by security, I felt like I was going a little nuts. Had I entered some weird parallel universe where the Presidents were the hardest rocking band in the land, and its legion of loyal teenage fans were sacrificing themselves on the altar of rock? I have never felt older in all my life. So aside from the ridiculous moshing, the dorks that stripped to their underwear during "Naked and Famous" and the dumbass stoner that kept swaying into me no matter how many times he was shoved away, the atmosphere was great. No complaints here, no sir. I love kids, and I can't wait to have a whole mess of the little creeps myself someday. Bah.
Still, I can't say that I wouldn't have behaved the same way at that age so I'll cut em some slack. Hell, I can't blame the little idiots for going a little nuts since the show was really good. Even though the band played pretty straight forward renditions of their songs, they added just enough spontineity to keep things fresh. From the tiny invisible harmonica solo, to the Sex Pistols cover, and the closing nod to Motorhead, the band seemed to be having as much fun as the audience. Even after technical difficulties during the encore, the band pushed on with panicked smiles on their faces. After finally conquering their last song, Guitarist, Dave Dederer plead to the crowd, "We can't play anymore! Everything is broken!" It spoke volumes of the band's spirit and personally I was just thankful Anna Oxygen didn't come out and rap about Dave's malfunctioning guitar.
There was kind of a sad aspect to the show, however. Despite the healthy attendance and spirited crowd, this band has been unfairly neglected since their encounter with the spotlight. They seem to know where they stand too, since they played every song from their first album, and represented their newer output with just a smattering of tracks. Overall it kind of made their post-popularity output seem like a footnote. It's really too bad since I'm as guilty of neglect as anybody. I sure didn't buy their second album after all, let alone their third. I'd say it's time I rectified that.