INTERVIEW: Johnathan Rice
Singer-songwriter on major labels works with Saddle Creek crew, makes great pop album (Warner Bros.)
By: Alex Steininger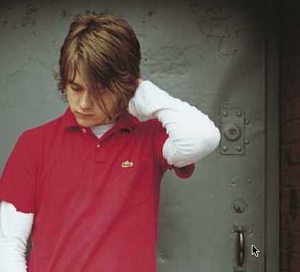 At only 21 years of age, Warner Bros. recording artist Johnathan Rice may seem, at least to some, to have come upon the dream major label deal, especially at such a young age for a solo artist, without any struggle. But, in his short life, Johnathan Rice has struggled a lot to get where he is, including renting out his room so his roommates could turn tricks while he was out playing shows, trying to get his name out there.

"It was a pretty interesting year," Rice tells me of 2001, when he moved to New York from Virginia to pursue his dreams of landing a label deal and making music his full-time gig. He had told his parents of this and they had mixed emotions, including being disappointed that he wasn't going to college like his friends. But, after discussing it, they realized the passion their son had for music and allowed him to try it for one year, and if nothing happened in one year, he agreed to come home and go to college.

"I was 18 years old when I moved to NY," he continues. "I'm not proud of it, but I never had a bed, just blankets and sheets, so I would let [my two gay roommates] set up an air matress in my room so they could turn more tricks. I did that at my lowest point and I am not proud of it."

Rice, upon getting to New York, found an apartment, but with working odd jobs such as a telemarketer, dog walker, and waiter, he couldn't afford to carry the rent himself. So he put an ad in the Village Voice, one of New York's premeire weekies, and soon got an answer from two guys who quickly moved in. The roommates turned out to be sketchy at best, with both of them making their money as gay porn stars and prostitutes.

"Steve, one of the gay porn stars, came from a penetentary for his part in an armed robbery," elaborates Rice. "The moral of the story: never advertise for roommates in the Village Voice."

It was during this time Rice met and befriended Washington, D.C.-based Chris Keup, owner of the local indie Grantham Dispatch. Keup took Rice under his wing and mentored him, soon putting out the Heart and Mind EP, Rice's first release, which is now out-of-print.

"I recored [Heart and Mind] when I was seventeen and put it out when I was eighteen," he says of the release. "I see that as my first proper songs; I was very green. I cring when I hear the stuff now. It's not a representation of what I do now. I printed 1,000 copies, which was all I could afford to print. I am glad it is out-of-print now".

Even with Heart and Mind to sell at shows, and Rice taking any gig he could get, busting his ass to make a name for himself, Rice held true to his promise to his parents and after one year, in the spring of 2002, bought a bus ticket and headed back to Virgina.

Before enrolling in school, however, Rice got a call from Warner Bros., who loved the EP and wanted to meet up with Rice, see him play live, and discuss the idea of him signing to Warner Bros.

Rice flew to L.A. and played for executives at Warner Bros. Things were going Rice's way, his dedication and persistance had paid off.

"After I played for Warner Bros. an exec said, 'I guess you should go upstairs and fill out the necessary paperwork,' which, I guess, was his way of saying, 'You want a record deal kid?'"

Once offered a record deal, which was Rice's dream, Rice was much too smart to sign it and call it good. He had to think about it - a lot - because even though it was his dream, he knew enough musicians who had been screwed over by majors, Rice wasn't sure it was right for him.

"I had to think about it for a long time, because major labels have ruined my friends and so I had to really think about it before saying yes. It was a life-changing decision," he admits.

Their passion and interest in his music, and their willingness to support him won him over and he eventually signed to Warner Bros. and moved back to New York to begin working on a full-length for them.

Rice continued to play live shows in New York while working on the full-length. He also kept busy by touring, helping to lay groundwork for when the full-length would hit. It was on these tours he made friends with the Saddle Creek crew, including producer Mike Mogis and Bright Eyes.

He befriended both of them, and asked Warner Bros. if Mogis could produce his debut. They gave him the green light and Rice flew to Omaha, Nebraska to enter Mogis' Presto! Studios to begin work on Trouble Is Real, the title of what would become the fifteen track debut from Rice.

" I originally planned on a 10-song, thirty minute debut," Rice tells me. "But, Mike Mogis convinced me a sixty-five minute debut was a good idea."

One of the reasons that convinced Rice that Mogis was right, the record should be a sixty-five minute, fifteen track debut, rather than 10 tracks and only thirty minutes, was because they were sure Rice would get dropped after turning in a record that ran the gamut from beautiful acoustic pop to indie- and punk-rock livelyness.

"The reason the record is so long and so diverse is because I was pretty sure I'd get dropped for making it," he laughs. "So Mike and I made a record we could at least play for our friends - and me for my children."

It was with that same mindset that Rice asked himself, "Why make a punk record and then a pop record?" and decided to do them both on one record.

But Warner has been accepting every step of the way. After recording the full-length, Rice realized that he could expand his following and tour for a few more months while the label's marketing and publicity team was setting up the record, to help raise awareness - and his fan base.

Upon telling Warner he wanted to wait to put out the full-length, but release an EP with tracks from the full-length, and only sell it at shows, to give the fans a taste of what is to come, but not force record store patrons to have to buy the songs twice, Warner agreed with his idea and again gave him the green light.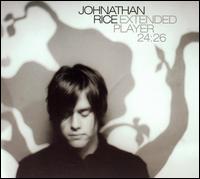 The outcome is the tour-only EP Extended Player 24:26 which includes six tracks from the forthcoming Trouble Is Real full-length.
"Since I'm touring by myself, in my car, the EP is a reflection of that," details Rice. "I wanted something to sell at shows, that would be like my live show, just me an acoustic guitar".
Though he loves working with other musicians and touring with a band, Rice is excited about the solo acoustic tours he has been doing prior to Trouble Is Real's release. "It's the true test of a song," he says. "You can go deeper with just an acoustic guitar."
Rice is very proud of the full-length, though, and can't wait for it's release.
"What's so nice about [Trouble Is Real] is it's not a product of my record label," he explains. "And though I'm not part of the Saddle Creek scene, I feel lucky enough that they took me under their wings and worked with me. I guess I'm the first major label artist to get to work with them."
Rice isn't giving lip service either. He continues talking about working with Bright Eyes and Mike Mogis, beaming every time their names come up, and proud of the contributions Mogis and his friends had on his record.
"Even though the record is going out under the name Johnathan Rice, I think we became a band in the studio," he states proudly. "I think Mike Mogis is as much a part of the record as Johnathan Rice."
He pauses for a minute and then tells me, "If you took away what others do on the record, you'd have just me strumming an acoustic guitar, which is what I'm like when I'm alone."
The conversation turns back to college and Rice's decision to pass on college. I ask him if he regrets not getting a higher education, to which he tells me he is getting a higher education, just not one you'd find in a book.
"Traveling and playing is my education," he asserts. "Lawyers go to law school, musicians make records and tour."
Rice, who doesn't think of things in terms of just one year, prefers to look at the big picture, planning out and preparing for the next ten years. In that time he tells me his only goal is to get better at his craft, tour as much as possible, and continue to play music daily, which he does, a lot of times for just his cat, but with a constant touring schedule coming up, he will be playing in more and more clubs each night.
"Also," he tells me, "I want to work as hard as I can to get this fucker heard."
Let's hope so, because, no matter what situation he was in, Rice has never given up and knew that this is what he'd be doing. And here he is.