INTERVIEW: Hanoi Rocks
After a 19-year absence, Finland's Hanoi Rocks returns! (Hanoi Rocks)
By: Athena Schaffer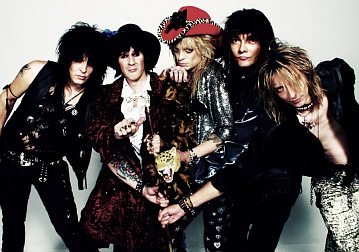 After a 19 year absence, Finland's Hanoi Rocks is back together, and have just released a new album, "12 Shots On The Rocks" (on Liquor & Poker Music Records). Founding members Michael Monroe and Andy McCoy had gotten back together in 2001 after a Hanoi Rocks box set was released in Scandinavia, and the duo (along with three members of Monroe's solo band) started appearing at festivals under the moniker Hanoi Revisited. Everything just sort-of came together and felt right for the guys, and Hanoi Rocks rose again like a phoenix from the ashes.

Michael Monroe talks about the reunion, new disc, and tour plans.

Athena Schaffer (for In Music We Trust): Tell me a little bit about the songwriting process behind the new album. It was basically you and the guitarist writing?

Michael Monroe: Me and Andy McCoy, yeah. We met and reconnected in a new way. It's working out good. It's exciting to see -- we've got a lot of experience behind us and we're really grown as people and stuff. So, it's fun to work with him.

Athena Schaffer: Do you do lyrics first or music first?

Michael Monroe: It's mostly music first. I write most of the lyrics, but Andy writes some, too. It pretty much depends on what is what. Some of the songs were actually written already for my solo album, that's why there were more songs written by me than Andy actually now. My input is more these days, where in the past Andy used to write about 90% of the songs.

Athena Schaffer: So, you're not doing your solo thing anymore?

Michael Monroe: No, not right now. I'm just concentrating on Hanoi now. My solo career is dormant.

Athena Schaffer: What can fans expect from the live show?

Michael Monroe: You can expect a very energetic, great show. This band is at its best live -- we're a really strong live band. They can expect not to be disappointed, at least.

Athena Schaffer: What are your touring plans?

Michael Monroe: We're planning to tour in America in the summer, but we're not sure yet if it's going to be a headline tour or we might be going out with Alice Cooper, or someone like that. That would be nice, that would be an honor.

Athena Schaffer: Are you going to release the box set in the U.S.

Michael Monroe: No idea. Probably not.

Athena Schaffer: Why not?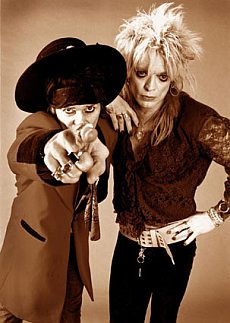 Michael Monroe: Because we didn't release it in Scandinavia, either. The box set was only released in Scandinavia. Contractually, we don't have the rights to release all that stuff. Different labels. It's the nature of the business. We're not lucky enough to have complete control over our catalog.
Athena Schaffer: Do you have more control now?
Michael Monroe: Yeah, from now on.
Athena Schaffer: Are you doing any videos for any of the songs on the album?
Michael Monroe: We've done a couple of videos. We've done "People Like Me" and "A Day Late, A Dollar Short" . They're okay videos but the great video is yet to be made. I think "Bad News" will be the next video for us. But we haven't really picked out a single for the record. We're just sort-of letting the radio stations play what they want to play. It's interesting to see what songs they'll pick.
Athena Schaffer: So, which songs have they been picking?
Michael Monroe: Some heavier stations are playing like, "What You Want". Alice Cooper was playing "People Like Me" on his program. Some like "Delirious" and some like "Obscured". Some like "Bad News". Some say they're not sure. It's cool, you know. There's a lot of great stuff on the record, I think, to choose from.
Athena Schaffer: What have I not asked that you want to see in print?
Michael Monroe: Just say that this band is at its best now, better than ever. Definitely the album's worth checking out. It's a very good album. We remastered it in the studio now, so it will really present the band how it is. Live especially is our thing. It's a very strong live band. We're very excited about playing live. I wanted to play live now, when I came here, but they asked me to go and do some interviews and stuff. But definitely come check us out. You'll be surely not disappointed. You'll be positively surprised. Great energy. Great energetic, melodic rock.