Weezer
Video Capture Device - Treasures from the Vault 1991-2002 (Geffen)
By: Alex Steininger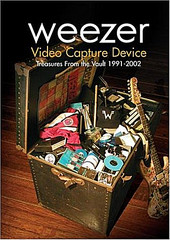 I may not be the best critic for the job here. You see, my label, In Music We Trust Records, recently released an EP, Puckett's Versus The Country Boy EP for former Weezer bassist Matt Sharp, as well as his debut, self-titled full-length.

So, it may be with great prejudice I review this DVD from his former band, Weezer.

Having said that, it must be noted that when Weezer first came out with the Blue Album in 1994, I didn't care for the band. I mean, their songs were infectious pop nuggets that seemed to get stuck in your head for days on in.

But, I wasn't a pop music fan - at least I didn't think so. I loved punk music. Yeah, right, punk music.

Eventually Pinkerton came out in 1996, failed to produce the multi-platinum results of the Blue Album and it became OK for me to like Weezer, since all the mall rat kids didn't anymore.

So, I gave Pinkerton a try. And then the Blue Album. I liked both. Both were stunning pop albums. However, after that, I stopped listening to Weezer. They went on hiatus and out of sight, out of mind, I guess. I moved on.

With the recent release of the Blue Album, however, I rejuvenated myself on Weezer and came to realize they were a spectacular pop band that wrote shining nuggets of power-pop goodness.

Even though In Music We Trust Records released a record from former bassist and co-founding member Matt Sharp, don't think I went into this DVD as a super or obsessed fan. Actually, it was more intrigue, curiosity than fandom that made me want to watch this DVD.

Video Capture Device - Treasures from the Vault 1991-2002, the DVD in question, features eleven years of Weezer, including every musical video the band has done, some interviews, live footage, rare video of the band in the studio, and plenty of video made especially for this DVD.

Being the casual Weezer fan that I was, I didn't know how interested I would stay in this DVD. To my surprise, I watched it start to finish and enjoyed myself.

Sometimes it dragged, going through the music videos I had seen time and time again watching MTV. However, when the non-music video material came on, the interviews, the acoustic performances, the behind-the-scenes footage, and the live material, I got a kick out of watching it.

The DVD is a fan, exciting look at the band making music, playing music, and having fun. People that are mildly interested in the band (like myself) will watch it once and call it good, maybe putting it on some late nights and jumping to scenes to watch specifically. However, people that are rabid fans will be glued to the TV and want to watch this over, and over, and over again.

I'll give it a B.