The Von Bondies
Pawn Shoppe Heart (Reprise Records)
By: Alex Steininger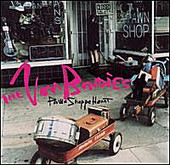 Their debut, Lack of Communication (Sympathy for the Record Industry), produced by The White Stripes' Jack White, and White's massive success, coupled with The Von Bondies' mixture of blues and punk ferocity made them a band of interest for several major labels. And, following a collection of BBC recordings, Raw and Rare (Dim Mak), the band soon signed to Reprise/Warner.

But, just as the record was about to hit, The Von Bondies front man Jason Stollsteimer and Jack White got into fisticuffs. Resulting in Stollsteimer getting his ass kicked by White.

Suffice to say, before the record hit, the interest in The Von Bondies skyrocketed, and everyone was covering the feud between Stollsteimer and White. One would be foolish to think this didn't help sell some records for The Von Bondies. Also, forever more Stollsteimer will be known as the guy that gut the shit kicked out of him by White.

Disregarding all of this, is Pawn Shoppe Heart, the band's major label debut, good?

It does.

The band seems to be finding their own voice. Pawn Shoppe Heart is not a White Strikes knock-off, though it is rooted from the same musical base as White's songwriting.

Here is a record that lives up to its Detroit Rock City tag. It weaves the blues influences into the guitar-soaked sound without sounding forced or cheesy, and results in a record that can both rock out ("Not That Social", a punk-fueled song featuring lead vocals from bassist Carrie Smith), dark, smoky ambiance ("Maireed"), and even psychedelic blues ("Right of Way").

From the punk-charged to the blues-proud, the record handles nostalgia and modern musical trends with grace. I'll give it a B.