Mike Park
For the Love of Music (Asian Man Records)
By: Alex Steininger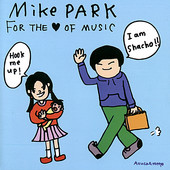 The acoustic solo album-- everyone seems to have one these days. Everyone seems to be going acoustic. Your band breaks up, your band is on hiatus, or you just have something really important to say and want to do it apart from the band. So, why not, do an acoustic solo record. Everyone else is doing it.

These are the thoughts I think every time someone does an acoustic solo record, even though I love tons of acoustic solo albums. And, Asian Man Records' head honcho and former Skankin' Pickle/Bruce Lee Band/The Chinkees' front man Mike Park is no exception. Heck, he's known as a ska-pop songwriter, one of the few helping to keep ska alive in the U.S. So, when I heard he was doing a solo acoustic record, even though I have heard him do solo acoustic stuff on various compilations and The Chinkees records before, I still thought, "This is going to be good" (said sarcastically).

However, putting in For the Love of Music, Park's debut solo acoustic record, I was pleasantly surprised. Songs about racism ("From Korea"), working for what you get ("Challenging Me"), and selfishness ("Present Day Memories"), are all strummed, pop sensibilities in tact, with the direct connect to the artist and their songwriting. No layers, light instrumentation, stripping songs down to the bare essentials. This is Park at his core.

Though, it is not all solo acoustic. Songs like "Hey You!", a song about individuality and conformity, and "Just Like This" bounce around with an indie-rock jaunt that would make all the lo-fi, home-recording, guitar bands envious.

Other instrumentation, like light percussion, strings, and bass help round out Park's otherwise acoustic numbers, mostly offering up their services as a backing accompaniment; never do they steal the show or come up front (except on "Just Like This" and "Hey You!" the two full-band, indie-rockers).

It's a catchy, infectious, and lyrically honest record that will make fans of Park smile and indie rockers who don't associate him with ska go, "who is this? It's quite interesting". I'll give it a B+.