John Vanderslice
Cellar Door (Barsuk Records)
By: Brian Barr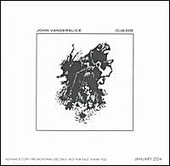 What John Vanderslice has created on Cellar Door, his fourth solo outing since the demise of MK Ultra, is being overlooked. Sure, it's not the perfect album he's been tagged with being capable of making, but it's damn close. Other records of such sonic mastery, pretty melancholy and attention to detail by any other bands would have been hailed by the critics, for sure. It also would have taken years for them to create.

But John "steady-as-a-rock" Vanderslice has been making near perfect pop gems at a regular pace for about five years. That said, Cellar Door is just more of what we've come to expect. Right?

Wrong. Cellar Door is a near perfect pop gem on which Vanderslice has stripped away the lush ear candy in favor of honing in on his overlooked abilities of delivery and writing.

That's not to say the ear candy is non-existent. The fuzzed guitars, intoxicating beats and ever-present melodies of Vanderslice's previous work are all there. But it's the oft-distracting theatrics that have been thrown out.

But don't let that bother you. Vanderslice's overlooked strength has always been his writing and on this record, it is receives the focus it always deserved

Take a look at the writing. The complexity of family seems to run rampant through this record and tear-up the lives of its protagonists. For example, there's the poor sap in "Family Tree" whose parents and sister have been nothing but disappointments. There's also the junkie whose admits his mother is a pill fiend in "When It Hits My Blood." And then there's the small town Joe for whom fatherhood becomes a shocking reality in "They Won't Let Me Run."

And let's not ignore the novel-like lyrical details. His character in "Up Above the Sea" buys a rifle with Bushnell scope. His soldier friend hunts Afghanis "from cave to cave" in "Heated Pool and Bar" (the title a no-doubt nod to Neil Young's "Thrasher.") A Vietnam vet even gets a post-war job as a "pharmaceutical rep", of all things, in "White Plains."

These concepts mixed with sonic imagery have been the backbone of his work, but the two have failed to mesh until now. His "sloppy hi-fi" technique fully complements the intricacy of his character's emotions. However, the continuous mid-level tempos fail to give life to the storminess that could rage from inside. With a few more crescendos, pulsating rhythms and dramatic vocal inflection from Vanderslice, this could easily be a contender for record of the year. But, as it stands, Cellar Door is a solid record that takes another impressive step toward meeting that reality.