Clearlake
Cedars (Domino Recording Co.)
By: Alex Steininger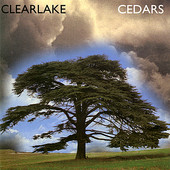 The English quartet Clearlake's sophomore full-length, Cedars finds the outfit, led by front man Jason Pegg (vocals/keyboards/guitar), blending lush pop arrangements with their own brand of Brit-pop. The result is a sophisticated, at times moody, more-often-than-not plush sound that combines everything from swirling guitar noise with beautifully crafted piano arrangements, giving the record a full-bodied sound. Though stark when it wants to be -- "Trees in the City" -- the band normally goes for a sensory overload, piling on as many layers as they can before the song seems about ready to burst.

The songs flourish because of this, as "The Mind Is Evil", a lush, mid-tempo pop song, filled out with strings and keyboards, will attest too.

"Wonder if the Snow Will Settle" is one of the band's darker, moodier compositions, the pitter-patter of the drums giving the song an eerie, shivering touch, while Pegg's vocals sound sullen and remorseful.

"Can't Feel A Thing" finds the band delving into the garage rock world, putting their Brit-pop spin on things, and offering up a melodic, hooky, but devilishly rocking number. From the softer verses through the full-on guitar burn and roaring percussion of the chorus, Clearlake steal garage rock as their own.

"I'd Like To Hurt You" is a spooky piano-pop song pulled off with an airy, keyboard-driven presence, allowing the band some space and breathing room to reel you in, the cold, weathered textures of the song beating at your unprotected senses until you cave in.

More lush pop shines on "Keep Smiling", while "It's All Too Much" builds and builds before pulling the punches on an experimental noise detour. Here is a prime example of the less-is-more mindset. Through noisy, but mixed down backing instrumentation, the band plays tricks with your mind and makes you believe one thing, before giving you the complete opposite, keeping the song soft and relaxed, airy, and very spacious.

Its basic element is lush pop, though Clearlake strips the paint off pop and rebuilds it as they see fit, track and track again, confusing things with some guitar-driven rock, before experimenting and taking their own path. The ride is well worth it though, and one you will be glad you took. I'll give this an A-.