Centro-Matic
Love You Just The Same (Misra Records)
By: Alex Steininger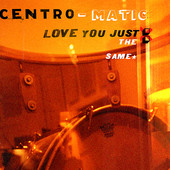 Denton, Texas-based Centro-Matic, the brainchild of frontman Will Johnson, is quite the prolific bunch. Love You Just The Same, the band's first record for Misra Records, is their ninth full-length since the 1996, when they released their debut, Redo the Stacks.

A lot of their output has been all over the map, from 4 track cassette recordings to multi-tracked ones that sound pristine. However, each of their recordings have always run the gamut in the recording methods, giving each record a real homespun feel no matter what gear the record was recorded on.

But with Love You Just The Same they've moved on, at least temporarily, offering up a completely multi-tracked recording, coupling it with tight production, ensuring a clean, smooth ride throughout the duration of their brand of indie-rock.

From straight-ahead rock through their pop influences, Centro-Matic's latest can hit you like the best of them, but has enough emotion and depth, and not to mention hooks, to reel in the novice or moderate fan to make them truly a fan. And though some may scuff at this, Love You Just The Same is quite possibly the band's best offering to date, a progressive record that shows where the band has been but also allows them breathing room to show what they can, and are, doing. I'll give it a B.