The Distillers
Coral Fang (Sire Records)
By: Alex Steininger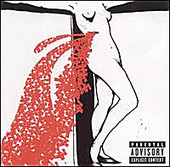 On their major label debut, Coral Fang, The Distillers, fronted by Brody Dalle (previously Brody Armstrong, now separated from Rancid front man Tim Armstrong), delivers a collection of songs that are dark and moody. On that note, they're also more pop oriented, and, by all accounts, more produced then their previous two full-lengths: 2000's self-titled full-length and 2002's Sing Sing Death Horse.

And, though at times, the Hole/Courtney Love comparisons are dead on, The Distillers are still more punk rock than Hole ever was, and, even as The Distillers sketch into modern rock territory, they still can make it loud, driving, and snotty.

This is a commercial punk offering, one that punkers will still embrace because it still retains its spit and snarl, while modern rockers will enjoy the sheen and tight production values that make the songs stand out. I'll give it a B.