Occams Razor
The Sound of Inevitability (Occamspit)
By: Jeb Branin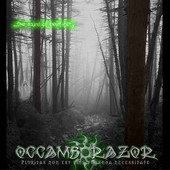 A lot of bands have tried to take the domineering crunch of pure death metal and incorporate it into a more sonically diverse delivery. Many of those attempts have been successful, others have flopped. OCCAMS RAZOR is definitely one of the successes. There is no doubt that O.R. packs enough of a punch to splinter bone, but the band tempers that by weaving innovative and progressive flavors into complex melodies. It is almost like getting hit in the head with a crowbar that has been padded just enough that the impact doesn't kill you.

Throughout their debut CD The Sounds of Inevitability, the band explores variants of this approach, with a lot more triumphs than one might expect from an album that could definitely be called "experimental" or even "fringe".

But fear not, even if you are one of those metal fans with their minds welded shut, you'll probably like this. The only drawback to the entire project is that the vocalist's "clean" voice is sometimes a bit off key. There is such a myriad of vocal deliveries here, there would be nothing lost if the "singing" was eliminated and something else substituted.