INTERVIEW: Vue
From Sub Pop to RCA, Vue raises the stakes (RCA Records)
By: Alex Steininger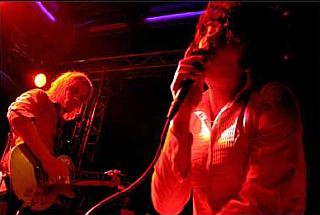 "We were lucky to make it the way we wanted to. I wouldn't characterize it as 'glossy'," says Jeremy Andrew Bringetto, bassist for San Francisco-based, RCA recording artists Vue, on their third full length (and major label debut) Down for Whatever.

The record continues down the path of their previously, blues-tangled garage-rock offerings -- 2000's self-titled full-length and 2001's Find Your Home, both on Sub Pop. However, Down for Whatever also finds the band offering a slicker, tighter, punchier, and even hookier product than before. A result of major label pressures or the band's natural direction?

"The record was written over a fairly long period of time and took shape in the recording studio. We had to really push and fight to make it sound the way we wanted it to be," Bringetto confesses. "Not with Nick, the producer, but with the label."

"Our two A&R guys, and our former manager," he continues, "they all had ideas of where the record should go. And we are OK with ideas, as long as at the end of the day we are the ones that get to choose how the record will sound."

And, at the end of the day, Bringetto says it is Vue, not a label, nor management, that made the record sound the way it does.

"We're converging in on our sound. The main difference between this record and the rest of our records is the amount of time we spent on this record. We were working from September to May, working eight hours a day to get the record done," he informs me.

"The producer we worked with is really performance driven. He really took a lot of input from us during the recording and mixing process. He was into recording everything on analog gear, cutting the tape with razor blades for editing and everything. We were really in-line with his recording studio, and he was in-line with what we wanted," he says of the recording experience.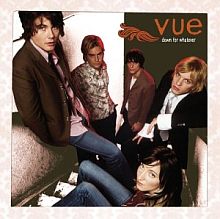 The record was mastered in May of 2003, and was released in the fall of 2003 in France and Sweden, but didn't see a stateside release until January of 2004.
Now that the record is out in the states, the band hopes to hit the road and tour continuously, playing in front of as many people as they can.
"Being on RCA, the stakes are higher on all sides," he says with both confidence and fear. "I mean, the industry is in a weird period and some bands' records never come out. There is more to gain and definitely more to lose."
Let's hope Down for Whatever finds the band success and happiness, and not the victims of major label downsizing, shifting, and red tape.