INTERVIEW: The Shocker
Ex. L7/OtherStarPeople bassist Jennifer Finch's new band
By: Alex Steininger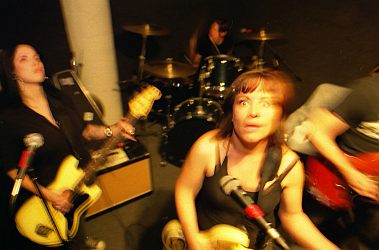 "Nobody can do it as fast as I can, and nobody can market the band as well as I can," states Jennifer "Precious" Finch, front woman and mastermind behind The Shocker, the former L7 and OtherStarPeople bassist's latest outfit.

Releasing their debut, a seven-song EP, Up Your Ass Tray (Little Pusher/Oglio) in July 2003, the band forged ahead, touring on the Warped Tour and Warped Tour founder Kevin Lyman's Girls Garage. The band is also currently touring Europe now.

Oglio, the only record label in the Fortune 500 -- "Three years running," states Finch proudly -- helped Finch put out The Shocker's EP and will help her do the full-length as well.

"Oglio handles the distribution of The Shocker EP through Alternative Distribution Alliance and does the retail marketing," she says of their joint venture. "The rest is me right now."

She sounds both tired and excited. But, above it all, she sounds happy to have her destiny in her own hands, to control her own fate and power, and to be the head of her own label imprint.

"It all boils down to money and time. We had more songs written but did the EP because of that -- money and time," discussing coming out of the gates with an EP over a full-length.

"It is really completely as an EP, though," she continues. "We have a poppier side, which the EP showcases, and a darker side that the EP didn't get to show so much. I wish we could have gotten three more songs on it to show our darker side, but as it stands it seems complete to me the way it is."

Besides being in charge of her label imprint, Little Pusher, Finch is also the sole songwriter behind The Shocker, another first for her.

"With Otherstarpeople and L7, a lot of those songs are collaborative. We would all write lyrics, whereas with The Shocker all write all the lyrics," she informs me. "I'm just concentrating on writing on how I feel, what resonates with me."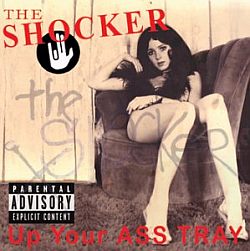 Up Your Ass Tray was recorded with a temporary band, another reason why Finch points out that it was a good idea to debut with an EP and not a full-length.
"The people on the CD were a temporary band. I had to replace the whole band, so that took time," she says, discussing the tardiness of a full-length to accompany the EP.
So, how has the band's sound evolved and changed with the new band coming together?
"It's different, it's definitely different", Finch says excitedly. "It's really new."
The band left for Europe on March 13th for a month, and when they land back down in Los Angeles they hope to play a few parties before leaving on tour again, this time to do their first U.S. tour, which will put them on the road for four to five weeks.
Following the tour, Finch hopes to take the band into the studio, while the songs are still fresh in their brains, and their playing tight, and is shooting for a fall release of the full-length.