INTERVIEW: Say Hi To Your Mom
Brooklyn-based indie-pop, lo-fi rock band discusses touring, latest release
By: Alex Steininger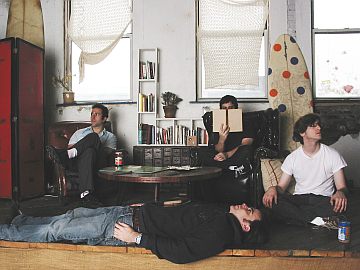 He knows his way around computers. He built his own machine from scratch, the PC box on which both his records, Discosadness and the latest, Numbers & Mumbles, were recorded on. He is Eric Elbogen, the front man and brainchild behind the Brooklyn-based indie-pop outfit Say Hi To Your Mom.

Recently completing their first national full-band tour ("It's been difficult to make it happen before with the full band due to financial problems," explains Elbogen, "[but] these are the first players that are in it for the long haul, the ones I'm touring with now."), and garnering rave press, including a review in Blender Magazine and heavy rotation on tastemaker radio station KEXP in Seattle (owned by Paul Allen and the Experience Music Project), Say Hi To Your Mom seem to be winning over fans of all kinds with their latest.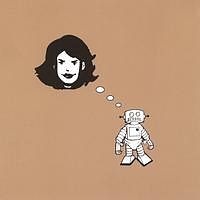 Numbers & Mumbles is indie-cool through and through, from its whimsical demeanor to the lo-fi approach (which Elbogen tells me is because of the way he records the records on the PC box he built, not because he is necessarily going for the lo-fi indie sound).
"I recorded the record on a Windows box I made from scratch. But I just bought a Mac - a lap top - but had been resisting using it for a long time as I know the Windows machine well and I know my way around it. But, I started doing demos on the lap top recently," Elbogen informs me, when asked why he records on a PC box when Macs have been more widely regarded in terms of recording.
However, he decided not to use the Mac to record Numbers & Mumbles because "A lot of the reason I approached [Discosadness and Numbers & Mumbles the same way was because I was more comfortable with the geeky side of engineering," he laughs. "I knew the gear and how to work it so I had more time to work on songwriting."
Elbogen agrees that records usually take on a life of their own during the recording process, but, after working out a lot of kinks with Discosadness, and using it as a learning curve, he wanted to stay with what he knew to better shape and control the sound of Numbers & Mumbles.
And now that he's done that, he wants to go back to the drawing board, learn more, and shake things up a bit for the next record.
"These days I'm writing and recording at the same time," he tells me. "With Numbers & Mumbles I would play a few of the songs live first, but when it came time to record them, I never got a recording I was happy with, because I knew how it was supposed to sound live".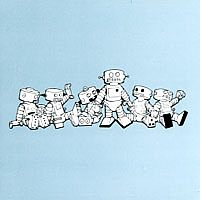 One of the few exceptions was "I'm So Tired", a Beatles cover Say Hi To Your Mom had been doing for quite some time. Unable to fit it on Discosadness after several recordings didn't live up to the expectations of Elbogen, he finally got the right version, which found its way on to Numbers & Mumbles.
"I'm glad I finally got it down," he says of The Beatles cover.
Another thing Elbogen is looking forward to is working with musicians in the future during the recording process.
"I've done both records by myself, with the help of a friend of mine, Matt, who played some drums on both records," says Elbogen.
However, he hopes that the current line-up - Adam (bassist), Nathanial (drummer), Aubrey (keyboard) - will assist him with the next record, adding a new dynamic to Say Hi To Your Mom, and helping it to become a full band, and not just a solo project.
Elbogen is also proud of the fact that Discosadness has just been released in Europe on the Belgium-based Kinky Star Records. He hopes that the record does well and allows the band the opportunity to travel to Europe and tour before doing another U.S. and releasing another record to do it all over again.