The Weakerthans
Reconstruction Site (Epitaph Records)
By: Alex Steininger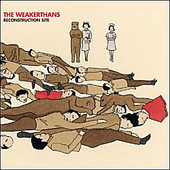 Former Propagandhi front man John Samson has moved well beyond the punk rock of his former outfit. Reconstruction Site, his band's third full-length, is an indie-rock record, about as far from Propagandhi as one could ever dream up for Samson. With Reconstruction Site Samson has not only clearly moved on, but he's grown up, choosing subtle over in your face. Light and bouncy, his version of indie-rock is like a spring day; it's warm and inviting, but not too hot to the point of discomfort, and relaxing but not slumbering.

Reconstruction Site, from first spin, is a sure thing, an enjoyable, pleasant listen for the ears. A few songs add a big more muscle. And, thus noise, learning closer to his punk side than anything else, but the majority of the album is breezy and laid back, mid-tempo, indie-rock songs with enough melody to keep them memorable, but enough rock to keep them from becoming pop songs. I'll give it an A-.