The Strokes
Room on Fire (RCA Records)
By: Paul Hullabaloo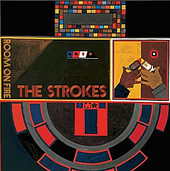 NYC trust fund vagabonds The Strokes have waded through two long years of vicious hype and waves of intensely analytical overindulgence to record and release their sophomore LP, Room on Fire, a broadly challenging and uncompromising follow up to the controversial assault of stripped down influence which was 2001's Is This It?.

It would be easy to simply criticize The Strokes for essentially being a band rooting around in its own stylistic formula. They are an outfit still eagerly struggling to map out in blue Xerox ink the architecture of their communal sound. They have a uniquely identifiable resonance; earned, ironically enough, by ostensibly mining from a fertile pit of existing Rockandroll influence and historical esthetic that has informed them as human beings first and musicians second. Yes, you can clearly hear the bands that The Strokes probably were into while coming of age but that is practically the philosophical point of the outfit. This is the art of reinvention through blatant reiteration. You can clearly discern strains of Lou Reed and in some narrow respects, The Velvet Underground, Richard Hell and Television, the 80's synth augmentation of The Cars, essentially most of the art-rock sensibilities of the NYC underground circa 1977 and even a surprisingly healthy dose of laid back island reggae. This is sonic emulation as the impetus for an organic Rockandroll evolution.

The Strokes also continue to prove themselves to be epic simplifiers, masters of boiling down their compositions to reveal base impulse and unavoidably well crafted hooks that work to motivate a song's sense of emotional currency.

The Strokes seem to naturally understand that attempting to progress the ethos of Rockandroll works only to castrate its preternatural ability to affect a very primal, hard wired instinct in a performer and a listener. They, despite wherever they have come from, or who their rich, new money fathers are, have The Instinct, The Birthright of authentic Rockandroll. Debate it all you will, but, The Strokes absolutely get it on a fundamental level. Study the way they exude a blank eyed charisma when within the trance of Rockandroll, or the confident simplicity of their melodic attack, or the unrelenting straightforwardness of the feel.

This is it.

Which is exactly what makes Room on Fire so fucking cool. Much of their patent esthetic is definitely retained here, there has been progression, but it is still unmistakably The Strokes.

This album is far less revivalist, The pop sensibility is toned way down; Room on Fire is a moody, sarcastic and emotionally troubled statement, a voluntarily disagreeable recording upon first listen. The true movement of this album takes multiple exposures to come across and once it does, it is a stunning revelation.

The Strokes have pulled away from the easy kill, creating a testament to the art of distance; the album seems to be thematically interested in distancing itself from the listener, illustrating Casablanca's distance from his muse. This is isolationist by design, somewhat barren and hesitant on a surface level, but Room on Fire, once critically dissected is probably the warmest, most connected mainstream studio album released this year. This album really feels like they made it for themselves alone, it is a complex and mired inward sonic manifestation, you almost feel voyeuristic when interfacing with it.

Lyrically, Julian Casablancas seems more internalized, more directly confessional. He is moving away from the natural instinct to sound right, to be in the right key, he is brave enough to explore the use of voice as an instrument of pained experience instead of a tool of blatant worker bee musicianship. His writing has become more elaborately structured, emphasizing his phrasing between beats, sometimes sounding almost late or early for the naturally occurring devices of cue layered into the music. He sounds drained and strung out, still hidden behind a scratchy wall of consistently distorted overlay, again proving to be a perfect partnership with the monotonous and flat qualities of his voice and delicate, first person nature of his lyrical content. He doesn't want to impress anybody, doesn't care if you listen or admire his talent. This is entirely evident in his words; he is constantly spelling it out for the listener. The album begins with the line "I want to be forgotten / I don't want to be reminded". Or, in the song "Under Control", Casablancas laments "I don't want to change the world / I don't want to change your mind / I just want to watch it go by--".

Lyrically, Room on Fire offers some of the most authentically brewed defensive nihilism committed to tape.

The LP also showcases some systematically refined lead guitar work by Albert Hammond Jr.

Here, Hammond really has the opportunity to bounce off of some dramatic time signature variations, pushing his solos into clean, high pitched ambient colors. These solos are launched with ferocious red-eye quickness.

The theme of this album seems to be about earning a platform of comfortable resentment through a defiant state of smirking, feigned numbness. It is a statement full of what I would term evocative apathy.

Simply put, Room on Fire is the most passionate, middle finger betrayal of every great and obvious method of selling out that I have heard in a long, long time.