Sloth
Dead Generation (Hollywood Records)
By: Vinnie Apicella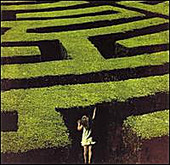 "Dead Generation's" a gripping combination of Corporate Rock and underground ethos that combusts into a fashionably loud, sometimes lucid statement of defiance and do it yourself attitude. True to their name, the tunes are slow moving, prodding, pushing their way to get the message across that, yeah, life's a bitch sometimes, get over it and get on. Along the way, heaving guitar riffs blend with tuneful harmonies supporting Rich Love's impassioned pleas that plug choruses like "We Are A Lost Generation" and "Open Your Eyes" firmly into your brain and stick with you like the parental lessons you'd pretended to ignore only to revisit twenty years later. Preachy? To some degree, yeah, but I respect their work ethic that got them noticed in the first place without feeling crammed with conscientiousness.

That said, we can't easily dismiss the notion that Sloth compares typically well with bands like Nickelback, Saliva, and Stereomud, all of whom remain in favor today and it's to their credit they've gone a mile extra to sweeten the flavor in their music that's a range above the three minute, three chord bitterness. "You Can't Look Away" features a touch of Greek bouzouki music that fastens an elegant interlude to an otherwise crunchy tune, while "Even Though It's Over" plays like the blockbuster movie ballad before the blustery break up. "Billygoat" is a near epic length drama at the conclusion that's a step beyond the rest with its eerie, emotional build up that's oddly reminiscent to something like Pink Floyd or even Tool. "Dead Generation's" not exactly fun to listen to but they're taking their shot and running with it. The tunes are solid, catchy, generally safe home with a little instrumental tampering here and there for freshness.