Salty The Pocketknife
Salty The Pocketknife (Sonance Records)
By: Vinnie Apicella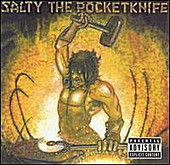 If band names and quirky titles are any indication, this whole record is conceivably a discombobulated mess of tuneless noise and mindless drivel. Somehow, the four members actually manage to take each of these elements and craft a rather enticing and well executed mix of funky rock jams and bratty punk music. Is there more to the story than titles like "Senor Gonzo," "Red Panties 145," "Butterfly Feat," and "Rim Goblin" might indicate? Probably, though without an actual lyrics page and considering the degree of technical execution in their playing style, I'd place the bet.

Salty The Pocketknife came to life from Bug Guts-- literally. Bug Guts was a late '90s cult act that found a diamond in the rough by the name of "Dustin," that would be the geek from "Saved By The Bell," yes, and collectively decided to shave off some song length, insert a few melody lines, slap on a multi-colored dominant/submissive female front, and hope the rest of the world could catch up in four or five years.

Their self-titled result is an at times inviting, if unsettling, mix of eclectic Alt Rock/Punk/Avant Garde/'70s psycho-babble tunes that are gratingly sloppy, gratifyingly clever, listenably catchy, and altogether quirky. Yet somehow if you separated all the parts, the degree of musicianship is astounding. Yet somehow, pieced together, it all works-- for the most part. Not every song here is going to dazzle you senseless; it may slap you silly, but overall, there's enough to sink into. "Sever" is loosely associated with the issue of abortion, and where Rosebud, a charismatically trashy singer that'll recall Concrete's Johnette or Sonic Youth's Kim Gordon, depending on the mood of the song which for all their three or four minutes, change often, really let's loose a barrage of torture and titillation at once.

Individually, each of the four does some superfluous instrumental work without stealing one or the other's show; Comparatively they're something like an early version of Incubus or Mike Patton's Mr. Bungle; early Sonic Youth and even new schoolers CKY belong in here somewhere, not to mention Zappa & The Mothers Of Invention, or misadventure if you prefer. "Butterfly Feat" proves a masterful one overall, concluding with a plosive jam that's nothing short of "heavy" while "Rim Goblin," a song about sugar, quite naturally, is among the weirdest going here, not an easy thing, and highlighted by Rosebud's Tiny Tim-like ramblings. Very disturbing.

The offbeat and out of time continually wrestle with progressive resistance throughout this mischievous, monotonous, albeit methodically and melodic sounding record that's got the goods and like the greats of the day, gets better with age. Here, that's roughly two hours and twenty minutes for nearly three listens before most of what blurted out the first time begins to make sense and suddenly the light goes off -- they're good-- odd, fucked up and funky, but good. Salty will dance and flip and carve his initials into your burned out brain and to the outside world, will turn some heads in the underground but might have to twist off a few to land any serious attention outside the low lying college level airwaves. Yet imagine what they musta thought when Incubus and System Of A Down first trudged on the flowery garden of Pop artistry.