Phantom Tollbooth
Beard of Lightning (Off Records)
By: Alex Steininger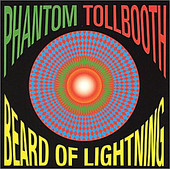 Erasing the vocals from the 1988 album "Power Toy", Phantom Tollbooth allows mega-fan Robert Pollard of Guided by Voices to write new lyrics, melodies, and vocal tracks, recreating the history of Phantom Tollbooth, after bolstering that if he had been in Phantom Tollbooth they would have "ruled the world".

An art-rock/post-punk band that had a good run from 1987-1990, Phantom Tollbooth dissolved when guitarist Dave Rick left the project to become a full-time member of King Missile.

Though I've never heard the original for comparisons, Pollard's version of Phantom Tollbooth's second record, Power Toy, now known as Beard of Lightning, with the songs re-titled as well, to fit his new lyrics, melodies, and to signal him fronting the band. It is an indie-rock delight, an artsy, psychedelic record that is tighter than the average Guided By Voices record, but still has Pollard's sense of living on the fringe, loosely arranging and pulling everything together, and just going for it, regardless of outcomes. It is a must for any Guided By Voices fan, hands down, without question, and just a good artsy, psychedelic indie-rock record for those who are interested. I'll give it an A-.