Papillon
Soledad (Dirigeable Records)
By: Alex Steininger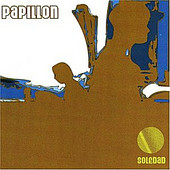 Portland, Oregon's French-pop outfit Papillon, led by vocalist Mikael, who was born in France (and has the accent that makes ladies melt), delivers their debut full-length, Soledad, a warm, sunny record rich with melody and passion. Fusing meditative rhythms with light, raindrop-like guitars and vocals that both massage and caress, Papillon proves that, if music is the universal language, and French is the language of love, their music embodies the universal longing and fulfillment of love, the soulful, quirky, textural side of the band colliding with the reel-them-in shine of the songs, ensuring that the lovelorn and the happily coupled people of the world all equally embrace it.

That's not to say all of the band's songs are laid back, because they have their bouncy, upbeat rock side too. It is these two sides that make the band the entity they are, the band that can be the soundtrack to your late nights longing for love, your make-out sessions, or your summer parties. It's a rare band that can recall all these memories in a single song -- let alone a single album -- but Papillon does it time and time again. I'll give this an A.