The Minders
The Future's Always Perfect (Future Farmer)
By: Alex Steininger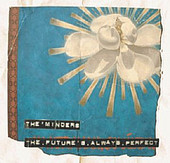 Departing from spinART and calling San Francisco-based indie Future Farmer home now, Portland, Oregon-based combo The Minders, with guitarist/vocalist Martyn Leaper and keyboardist/vocalist Rebecca Cole at the core, return with The Future's Always Perfect, their latest offering of blissful, ultra-melodic indie-pop sweetness.

The word "Beatlesque" is an easy word to throw around in relation to The Minders' brand of pop. Yes, The Future's Always Perfect does pay homage. But it is so much more, and simply labeling it a Beatles inspired record would be limiting and doing the record a great injustice (though it is inspired by the Beatles, and the influences is undeniable).

Right from the onset, The Minders let the good times roll. "It's So Hard", bolstering cheerful melodies and a 1-2 punch of bouncy rhythms and sing-along hooks, is an instant pleaser, the kind of unforgettable song that would have climbed the charts in the 60s.

"Tearaway" follows, Cole's keyboards adding the twinkle in the eye of the song, giving it an extra sweet candy coating, making it another instant classic.

Memorable pop classics is what The Minders excel at, however The Future's Always Perfect finds the band, much like on each release, experimenting a bit, while still retaining their unforgettable sound.

"Hahaha", which finds Cole on lead vocals, is a prime example. Instead of the rocked up, jangle-y, bounce-rock the band's pop songs are normally fueled by, this number takes a slower approach, Cole's keyboards chiming in with an infectious melody line that dances around in your head while you nod in agreement.

Then there is "Go Wave Your Wand", Cole's keyboards turning Leaper's song into a slightly new-wave pop offering, a song that shows the duo can explore several dimensions without losing the thing that makes all their songs so golden -- instant accessibility.

Two more tracks that find Cole on lead vocals are "28X" and "Jealous Baby". The first incorporates both new wave and garage rock while the latter moves like molasses, using Leaper and Cole's voices as the prime instruments, everything else acting as a supporting cast to ensure the song springs to life.

The Future's Always Perfect is eight songs in twenty-six minutes -- it's an EP. But the songs are so delicious and beautiful, even though the record flies by so quickly, you feel more than fulfilled. It's one of the finest pop offerings in the last handful of years. I'll give it an A.