The Little Killers
The Little Killers (Crypt Records)
By: Vinnie Apicella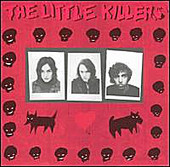 The NYC trio couldn't have scripted it any better. The three of them met in a downtown bar, wanted to band together, could barely play, got cocked on Chuck Berry riffs and '50s cruising' tunes, and before they knew it, Crypt Records comes calling after hearing a hand me down in the local shop. They're The Little Killers and their music's simple, unassuming, and easy to digest; pure Rock n' Roll the way it began and the way it's meant to be played. The Little Killers came from the underground just like the Rock idols before 'em, and like the ones before 'em, will likely cause a stir in the mainstream community tired of pre-packaged, pre-positioned, mass produced crap.

The chops are rugged, the production's rough, and there's plenty to groove to; sure there are more than a few sound-alikes in the mix, but then so what, the rhythm and pace are set from the onset and the driving jam is pure pool hall, Jukebox Rock that sews the golden age with the glitter and grime of '70s era Punk. When one song sounds good, they all do and you won't care if you're listening to "Volume," "Happy," or "Pucker Up," they're repetitive and retro on rapid fire progression and it sure feels fun to listen or fall over drunk to.

The Little Killers first release features more than enough licks and fills forced into a ten dollar budget than you'd have the right to expect. The tunes are shakin', soulful and catchy, recalling the likes of Ritchie Valens, The Romantics, and old Replacements, with a smattering of The Stooges in and around the coarseness delivered by Andy's vox, the sixty percent of the Sub Pop roster and The Stones in-demand. The rest of the band features a female rhythm section adding a touch of feminine harmonic charm to the overriding coarseness. Crypt's first score in five years could prove to be a sleeper hit for the influential underground label and proves that accidental heroes can and do exist.