Leaves
Breathe (Dreamworks Records)
By: Vinnie Apicella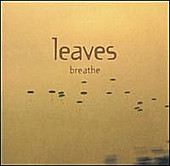 Rearing a worldwide success story from the tiny Nordic country of Iceland is as rare as a sunny day in December, but building on the startling popularity of Sigur Ros and to a more believable extent, with their Rap/Rock/Punk quality, Quarashi, Leaves' debut "Breathe" is a convincing breath of winter freshness in a suddenly surging Pop music scene.

Recalling the tender moments of '70s idol Rock and '80s post-modernism, Leaves aren't atypical of rough winter nights and drinking binges waiting for an elusive sunrise. Prevailing conditions as they are, Leaves aren't always recreating the bright sunshine over perpetual gloom. "Breathe" is a seasonal combination of both, serving cheery, catchy folksy Pop tunes with an ambient melancholic underpinning bore of desolation, yet the desire to rise above the ranks of also-ran fashion comes into play often.

"Go Down" and "Sunday Lover" are evocative of familiar-faced love song crooners like Mike Yorn or David Gray, lofty and emotive, stirring and powerful. "Catch" opts for crossover status with its catchy Pop principles and Modern Rock effectiveness, ala The Go-Betweens or Echo And The Bunnymen. The title track is a folksy crawl, while "Silence" picks up the percussion and adds a lovelorn kind of sadness an acoustic and somber embrace. "Crazy" is stirring with a string arrangement that begins wistfully before breaking into a spirited verse that's another candidate for the Pop charts if not the grown up front. It wouldn't be a stretch to compare Leaves to bands like Coldplay or Radiohead, two of the more conscientious success stories of the day. However, overlooking Leaves' own identity and breadth of songwriting presents the potential pitfall in the bands struggle for identity as they follow the similar path. And then would we be stretching the limits that much farther to compare them to Lifehouse, U2 or even Oasis?

Catchy Pop tunes and emotional ballads have been a staple in the music industry in one form or another forever, it's only when someone suddenly strikes a nerve at the right time as when the world's ready to come clean from Alterna-Rock's grime do we embrace this "new" school revival. And three years ago, who might've cared less for a band called Coldplay or Idlewild or whoever cried out in anguish over a piano chord and haunting string instruments?

Leaves represents an ageless fluidity in music and captures the senses on all circuits, acting on creative impulses, evoking despair and hope, imaginative on the one hand as we might think of an unassuming Floyd tune, or easygoing, sincere, and simplistic as a grown up U2. "Breathe" is easy listening, listener friendly, and emotionally tilted enough to bypass the mainstream extreme to mark its territory in making Leaves a winner waiting in the wings for the next flight out of Icelanding obscurity.