Josh Kelley
For the Ride Home (Hollywood Records)
By: Alex Steininger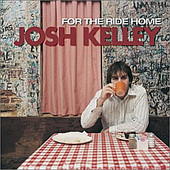 Josh Kelley's For the Ride Home, his debut record, blends folk, roots-rock, and pop into a down home, friendly, and radio-friendly offering. Using the powers of the internet and Napster, Kelley would go to the local library (they had high-speed internet access) and e-mail Napster users who liked music similar to his. One of the users he e-mailed was Eric Clinger, a Hollywood Records A&R man. Clinger, who enjoyed Kelley's boy-next-door innocence and ability to craft hooky songs, took a liking to him and For the Ride Home is the outcome.

A solid debut from a man who regularly recorded at home and uploaded MP3s to Napster The album features tight production and a lot of layers, making it a sturdy, durable pop record, one that, despite fitting in perfectly on adult-alternative radio, doesn't abandon its folk and roots leanings, at times giving the record an Americana-pop feel.

Though, the songs do shine so brightly they can blind, and often run into each other too well, leaving each song, despite their candy coating, hard to distinguish from one another. Still, Kelley's innocent voice and lyrical ability does enable you to listen to it all the way through and want to listen again -- thus allowing it to grow on you. I'll give it a C+.