Feverdream
Future Directions (Coalition Records)
By: Vinnie Apicella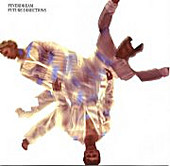 An apropos name for the Dutch trio that makes music that's both feverishly energetic and calmly soothing. Yet you don't mistake them for the plethora of Emo-brands hitting the Indie, and lately, major markets. Their sound's still a step or three below the mainstream which adds an element of intrigue, if a degree of independence to the still developing style, which could be classified as "Alternative Rock" had the name not been drubbed and done to death a decade ago by Pop radio. There's a multitude of vibes hitting the air on "Future Directions," making several stops along the way from Indie Rock, Emo and even New Age, but settling at no point of Pop artifice in particular.

Songs like "60 Seconds" and "What Pedro Says" offer a one-two introduction into the stressful and subduing -- a viable combination of droning atmospherics and languid guitar picking that's mysterious as it is melodious. "That Black" is an underwater moment for much of its 4.5 minutes, punches up a few power chords to close, relaxes, then gives way to one of the more jarring moments on the record, "The Story Of Joanna," a rough-edge, punk tune backed by a Gothic progression and torturous vocals; "Tech-no-logical" is a return to the serenity of earlier, this time riding a tormented verse and dissonant riff; "The Project Of '78" impresses as among the best of moments here, featuring a catchy opening groove led by a lurking bassline, it falls back, leaps forward and with a resounding chorus demands full volume; and at over four minutes, definitely qualifies for "epic" status among the generally three and out average of the rest.

"Future Directions" is Feverdream's third recording and boasts eleven songs that are flighty, slightly fancy and a tad obscure for mass consumption. Envision the elementalism of post-Punk groups like Sonic Youth or Drive Like Jehu and the minor key dissonance of Interpol or Anathema where tension and tranquility intertwine and disperse a dynamic yet soulful effect.