Detroit Cobras
Seven Easy Pieces (Rough Trade)
By: Paul Hullabaloo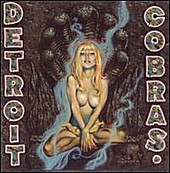 I'll be completely honest with you. I bought the Seven Easy Pieces EP by The Detroit Cobras entirely because of its album cover. I first saw it while flipping stoned through a friend's record collection. This cover is truly sick, plain and simple; a Heavy Metal Magazine influenced, buxom and evil eyed virginal blonde succubus caught naked, drenched in the black steam shadow of a looming, leering seven headed cobra-hydra hybrid. That image, that singular vision meant to herald the sonic contents of its album, was precisely what I wanted to hear. Let me warn you right now that this goddamn album cover is the epitome of false fucking advertising.

To the performer marked by its birthright, The Blues is the nucleus of passionate Rockandroll expression, a monastic and all encompassing calling. These bands, compelled by a psychic force of inherited personal undertow are rare and rarely achieve mainstream exposure due to the fact that true blues performances are resistant to recording mediums. To record the Blues, other than as a historical document, is counterintuitive to its nature. The Blues is a live medium, intended to be fed to a willing audience; Blues shows, when executed authentically, are sacrificial events, ritualized exhibitions, spontaneous and singular. Regardless, I still, based on that goddamn album cover, could not wait to be exposed to the work of The Detroit Cobras.

Now that I have, I can clearly say that this EP is the most boring rockandroll album I have heard in a long time. It really says something when you have a hard time peeling through a slight 19 minute EP, doesn't it?

The Detroit Cobras, as they are represented on Seven Easy Pieces, are Suburban weeknight bar band blues, truly the most insidious and insulting strain. This is castrated trust-fund apathy blues, sterile and learned. Which is exactly the problem here. The Blues should be organic, internally hardwired; The Blues shouldn't be studied at all. What makes The Blues work is not the attention to musical patterning, it is the earned, hereditary pathos burned into its elemental nature. The music is just the vehicle and secondary to the depth of emotional current present. What is critical to Blues interpretation lies in an outfit's ability to channel and infuse unique personality into what is the most primal and beautifully formulaic format of Rockandroll performance. There is not one shred of authentic and eager grittiness present on this album of covers and interpretations of existing material; There is no raw sweat, no haze of exhaled smoke, no visceral threat, no hint at all of the black void that powers its engine.

The production is way too polished, too sure of itself, which is an instinctual flaw. The vocalist, Rachel Nagy, tries too hard to sound of ill repute, she ends up coming off as stiff and theatrical. There is a particular fractured vocal resonance necessary to inform this potent musical form. Blues vocalization isn't supposed to be straight forward singing, it is a declaration of hung ego and pained self-interest. Nagy needs to reassess the canon of historical influence that she is drawing from and paying homage to. She doesn't sound like she gets it at all. The musicianship although formidable, is ultimately predictable; consolidated down and draped like window dressing lost in the background behind the over pronounced voice. The bottom line is that a real Blues statement should slaughter the listener and this album is a fucking lamb.

If you want to hear the best contemporary American Blues tribute around, seek out Ohio's THE BLACK KEYS, a two piece stripped down lo-fi outfit featuring Dan Auerbach, the purest, naturally emulative blues voice within his genre. THE BLACK KEYS school these fools.

I have no choice but to be this harsh only because The Detroit Cobras are tampering with the sweat of the Devil's back; Men have sold their souls for The Blues and for that there is a blood and bone responsibility you must shoulder and be accountable to when entering into a dark bargain with its history.

One thing that still remains with me and the only thing that you cannot take away from this otherwise forgettable EP is that the album cover is still cool as hell. How's that for positive thinking?