The Delgados
Domestiques (Chemikal Underground Records)
By: Alex Steininger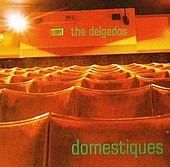 Originally released in 1997 on What Are Records?, and now on Chemikal Underground (with bonus tracks), The Delgados' debut, Domestiques shows the band's budding talents as they start to emerge. Certainly not as powerful or as polished as their most recent full-length, Hate (Mantra Recordings), the record still has its shining moments and is a worthy listen certainly for fans, but novices as well.

With nineteen tracks total - the original fourteen and five bonus cuts ("Monica Webster", "Primary Alternative", "Thirteen Gliding Principals", "Een Telf", and "Bearcub") - the record's nearly sixty minutes is filled with some diamonds in the rough and some already fully developed gems.

Of the latter, "Stratcona Slung" would certainly qualify. A driven, energetic indie-rock offering that boldly proclaims its presence with an infectious, addictive hook that leads right into the sing-along chorus. After hearing this song, one has no question how the band has established themselves as creators of beautiful, balls-y indie-rock.

Other songs like "Big Business in Europe" and "Sucrose" showcase the band's punk leanings firing up their indie rock, while "Falling and Landing" and "D'estus Morte" find the band settling down, turning it down a notch, and writing laid-back, sleepy, indie-pop songs.

The band is multi-faceted, and that's the beauty of them. They can crank up the noise and rock out or turn it down the volume and still retain your undivided attention. And though they've gotten a lot better at this craft on later albums, on Domestiques they prove they had it from the get go and are just refining their craft with each album. I'll give it a B.