Beulah
Yoko (Velocette Records)
By: Alex Steininger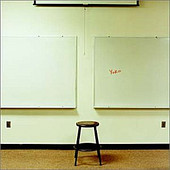 San Francisco-based pop band Beulah's latest, Yoko, turns up the amps, downplays the lush arrangements - strings and horns - of previous albums, and goes for a more indie-rock sound. In the process, however, they craft beautiful melodies, never willing to shake their mastery of all things pop.

"A Man Like Me" finds the band layering rock guitar on top of sparkling melodies, before breaking into a full, vibrant chorus that is hard not to be swept up into. "Landslide Baby" makes heartbreak almost fun, the bouncy rhythms and sugarcoating ensuring the sad pill is easy to swallow. A balanced combination of pop and their more indie-rock focus, it has the charm to make you melt, but the rock forefront to hit you hard with the tale of a loved one leaving.

"You're Only King Once" mellows, focusing more on lush textures, while "My Side of the City" is all about the rock 'n' roll. "Me and Jesus Don't Talk Anymore" starts out laid back, but soon takes on a life of its own. The pedal steel gives the number a country tinge, while the band experiments with other instrumentation throughout, ensuring a delivery that is anything but the norm. The song swims in horns, giving everything a bright, happy demeanor, but the experimentation contrasts this nicely, allowing the ditty to thrive with a push-and-pull reflect that is hard to ignore.

From the serene, laid-back softer moments through the full on, burst of energy indie-rock, all sifted through an undeniably warm pop texture, Yoko finds a band growing up and maturing together. As this happens, their talents seem to be blossoming, and the outcome is unstoppable. I'll give this an A.