Vision
Detonate (Chunksaah Records)
By: Vinnie Apicella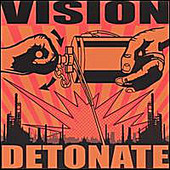 It's rare that a place like New Jersey is tossed around and taken seriously when it comes to Hardcore Punk music and yet when you get down to it, there's little that sets it apart from NYHC, Boston, Chicago, etc. It's all about attitude and to that end, Vision possesses as much as anyone. For better than fifteen years they've been pumping out a vicious style of street Punk anthems and progressive Hardcore. Combining rough riff and harmonic tradeoffs and roaring vocals, substance and style on equal planes, the band's however been unlucky enough to fly maybe an inch or two below the radar in terms of commerciality, yet to look back, their continued existence suggests something far more valuable than Pop credibility. They write solid, catchy Punk songs that can crush and carry a tune at the same time. Following up "Watching The World Burn" they bailed on Epitaph, a label in which their style is perfectly suited, and landed back on the east coast with Chunksaah and have come back with a smoking new thirteen track record that's on an intensive par with their previous, under-produced, and fully capable of competing with the bigger names who'd had a better break.

"Detonate," "Throw It Away," and "Getaway Plan" are explosive examples of H/C aggression tempered with melodic runs and home team shout-outs. "Overload," "Used To Be" and "The Sky Is Falling" are Emo-tinged Punk tunes that extend the theme of personal conflict into farther reaching, world rupturing proportions. And they do an old Greg Kihn cover -- not "Jeopardy," thankfully, but "The Break Up Song" -- substituting the "Uh Uh Uh's" for "Nah Nah's," speeding up the pace, sneering, and somewhere around three minutes later you're still convinced, no, they don't write 'em like that anymore! "Faster Than Fate" at the close features fast fretwork and Bad Religion style verse, forcing the issue of stagnation by stepping aside and moving forward. "Detonate" as a whole is a picture of ambitiousness, punching out atypical "rah rah" Punk standards and lollipop tunes with a defiant two guitar attack, H/C intensity and Hard Rockin' ambitions.