Park
It Won't Snow Where You're Going (Lobster Records)
By: Vinnie Apicella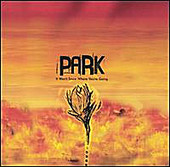 "This album is purely an artistic interpretation of personal experiences--" or so says the closing message on the back cover in their track covering reference against one's suicidal tendencies. Yes, the ten songs on the latest from Park are like one long love letter revealing the pain and anguish one had gone through; the torment, the lament, the vindication-- and the heart of the matter, thusly sliced into conveniently packaged titular references from a tortured mind. Such is the predicate for the popularized Emo/Rock movement that's catapulted Hardcore energy into new musical depths. Think of the impact Post-Modernism had to the Punk and New Wave stars of the early '80s, and bands like Park, afforded a greater degree of slack in the rope of angst-peddling Punk pushers gone Pop with a nifty lick and harmonic fill.

"It Won't Snow Where You're Going" can easily be construed as a concept record, beginning and ending with the singer's lament over a lost love and apparently bad break up that's left him broken. Another added dimension Emo's allowed the musician to go is daytime drama; yesterday's taboo seems today's motivational sweep; somehow, somewhere, they'll get the girl, die trying, or delve into a remorseful dirge of deep song titles and broken sentences.

Park's second record follows up their 2001 "No Signal" release, a record broadly defined by self-expression and discovery. "It Won't Snow Where You're Going" is clearly aimed at a good love gone bad and the wreckage left behind. Our grief-stricken hero pursues redemption through lashing out on themes like "Gasoline Kisses For Everyone," "Day One And Counting," "Numerous Murders," and "This Would Be Easier If You Would Just Die." Nothing too wicked or perverse, just simple, old-fashioned honesty to release the stress of a sunless sky in the aftermath of rejection. And Park is an amazingly tight band that's very much an embodiment of the minor key melancholy and midnight drama that's made a group like The Smiths or The Cure so soulful and deep, or today's followers, Saves The Day or Boy Sets Fire, featuring ample power chords to press the point across.

Ladd Mitchell's vocals are soothing with a smattering of angst, ably supported by creative and concise musicianship employing catchy chord progressions and melodic guitar fills in spite of the world's caving in around him. Most songs occupy their own space among the rest and the band's mid-west roots come into play on the safety and sanctity of the record which never ventures too far into one or another extreme -- envision a grouping of Further Seems Forever or Something Corporate, the atmosphere of Armor For Sleep, and "It Won't Snow Where You're Going" becomes a descent to despair that's pleasantly cathartic.