Life Of Agony
River Runs Again: Live 2003 (SPV Records)
By: Vinnie Apicella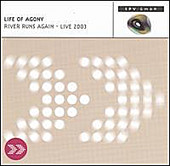 The river ran red again, right through New York City's Irving Plaza for two sold-out shows for what was supposed to be a one-time only Life Of Agony reunion with the four original members playing together for the first time in eight years. After two monstrous New York style H-C/Metal "crossover" records in the early '90s, the band crumbled and chucked credibility out the window with '97s gaunt "Soul Searching Sun" barely hinting at the level of innovation they brought upon their arrival. Did it add to their "progressive" legacy? Nah. Who bothered keeping track in the years that followed leading up to their '99 break up?

Combining rugged chops and Keith Caputo's irreplaceable drone and wail, like a Chris Cornell, Maynard Keenan, Peter Steele concoction, LOA's tunes travel a winding path of sludge, groove, and street level Metal, at times heavy and dense, others, as a song like "Weeds" indicates, melodiously Pop and Alternative. It's worth noting Caputo's strong vox on the stay at home classics like "River Runs Red" from their classic 1993 self-titled debut, "This Time" and "Other Side Of The River"; no sir, they pulled no punches after the opening bell and the crowd noise, but to hear him go on a catchy one like "Weeds" was unexpectedly impressive as he stretched notes and octaves alike before returning the familiar taunt-like croon for "Seasons," from 95's "Ugly" album, and sharing grunts and screams for the Sabbath meets S.O.I.A. style of "Method Of Groove".

The live collection features 21 tracks, among them being "Tangerine" to begin disc two which in itself is inexplicable since they've more than enough to draw from on the two earlier classics-- maybe one and a half, but who's counting? The regular set ends off with the thrashy "Through And Through" that's remarkably true to original form right down to the back up vox, hundreds of which coming from those in attendance, bellowing word for word, song by song. The CD set features three bonus studio cuts from the individual projects of the L.O.A. members. There's bassist Alan Roberts' Among Thieves and their song "Consequence" which is standard summer school soundtrack fare with strong riff and sappy chorus; Caputo's "Where What I Say--" well, let us say, we can only hope he'll stick around with L.O.A. a little bit longer this time; "Fake" by Supermassiv; drummer Sal Abruscato's band is the best of the bunch, combining hard radio Rock appeal with an Emo-style drift that recalls any of a hundred of today's secondary MTV2 stars from formerly Punk labels gone for broke.

They're back, at least for a two show minimum, to bring us that iconic, influential, underground sound that's been missed since the days of their passing. "River Runs Again: Live 2003" also features a compatible DVD set with bonus background material, and limited edition box set to follow. One of Roadrunner's earliest breakout bands, Life Of Agony's music is still relevant, and the relevance of the original unit, as evidenced here, is beyond compare.