Iron Maiden
Dance Of Death (Columbia Records)
By: Vinnie Apicella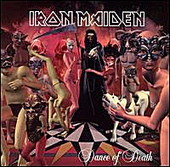 "Dance Of Death" sees the band in the unenviable position of following up their successful "Brave New World" comeback; a transcendental album that signaled the end of not only the Blaze-era band but also one that found Iron Maiden as more a progressivist band; one looking forward and furnishing a deeper, broader style of play that incorporated the work of three guitarists and dramatic movements of epic-length proportions. "Dance Of Death," like its predecessor, takes a few listens to fully absorb and once it does, it will find its way among their more respected works.

Beginning with two of the more immediate and quick tracks, "Wildest Dreams" and "Rainmaker," the band features plenty of heavy guitar work and melodies, while pushing personally-relatable lyrics beneath uplifting choral arrangements like following dreams and accepting change. In following, "No More Lies" combines a creeping instrumental, familiar to most from their "X-Factor" and "Virtual XI" days, before ripping into a powerful "Afraid To Shoot Strangers" style chorus, while tracks like "Montsegur," "New Frontier," and "Age Of Innocence" are classic Maiden, full with pummeling riffs and quick pace.

Overall "Dance Of Death," not dissimilar to "Brave New World," is a best of both worlds record that embodies the evolution of styles from the earlier power recalling the likes of "Piece Of Mind" or "Powerslave" with the more technically intricate and adventuresome found on later works, prominently "Fear Of The Dark" and the aforementioned Bailey-led duo. Thematically, the band cuts characteristically through the centuries, glancing back and looking forward one or two hundred years, with boldness and sincerity, covering topics as governmental abuse, the legitimacy of religious freedom, war, power, and human frailty framed in relevant issues and imaginary tales. Historical references as indicated by "Montsegur" or the wondrous epic, "Paschendale," another age-old Maiden trademark which takes place on the body-riddled fields of the fallen as an eight minute crusade of sharp instrumental breaks and time shifts that measure the might of Manowar's metal hammer and battle hymns. Here, a defining moment and one of their strongest works to date. The same can be said for its follow up, "Face In The Sand" which after a mysterious, orchestral opening lays the hammer down with a rare double bass entry, terse vox and dark harmonies.

One might question the Maiden's ability to break away from the typically long, languid greetings that have marked many a song entry since the foreboding days of "Fear Of The Dark" as well as concluding an otherwise potent yet polished record with the astral-like acoustics of "Journeyman," a Pink Floyd-ish ballad better left for B-side status. Outside of this, "Dance Of Death" is both immediate, involved, ambitious and generally energetic. It's another sophisticated success story amidst a collection of many and worthy of long-term appreciation.