HIM
Razorblade Romance (Universal Records)
By: Vinnie Apicella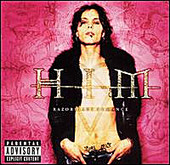 "Razorblade Romance" arrives stateside a couple years after hitting the scene overseas and the Rock charts in kind. Originally released in 2000 their second LP's an inviting blend of soulful Goth woven with Dark Wave fibers viciously torn apart with the knife edge of Metal, producing audio images of Morrissey's melancholy, Type O's despair and the enchantment of Paradise Lost. Love, lust, spirituality and In Nomine Satanas make strange bedfellows indeed, only here, HIM, blends the contents in an artfully drawn yet dark portrait of melody, mourning and metal riffing -- they call it "Love Metal" and they've sold over two million worldwide and done gigs with Ozzy.

In truth, the number of bands that've combined extreme Metal music with Gothic and Pop overtones are countless, yet few have dared to open their souls and say it like it is. Yes, HIM is certainly egocentric in the sense they've dared to call the number of Dark Metal crossovers on the premise that love indeed lurks beneath the gruff exterior, that they may maintain culpability with their cult fans, however, for all of HIM's talk about girl meets boy, there's an undeniable fierceness in delivery that's pure fire.

HIM, reared in Finland, where many a Black Metal act have reigned, have taken the concept of love and death and expounded on each to exploit what amounts to a unique adaptation of style that's had audiences worldwide raving for nearly a decade. "Razorblade Romance" features fourteen tracks of tastefully done, almost paradoxically inclined devil's music with a romantic twist. Tracks like the driving opener "Your Sweet Six Six Six" and catchy "Poison Girl" reveal a heavy undertone layered in Pop hooks and New Wave ambience. "Right Here In My Arms" is a pure love song in the finest Pop idol tradition; "Wicked Game" is a hyped up version of the Chris Isaak original; "Resurrection" is a dramatic and swooning soul stirrer that crashes through the tormenting, "Death's In Love With Us," a catchy, quick and up-tempo track that's among the album's best. Lead singer Ville Valo is an unlikely combination of commercial crooners like an Isaac or Pete Yorn with the darker underside of Morrissey, Gahan, and Eldritch, while on display, a wintry-themed version of fellow Finn Michael Monroe's sleaze and tease. HIM's first U.S. release is a romance novel written in Hell full with burning power chords, poison arrows and camera-ready poses that should soon leave a trail of bleary eyes and banging fists on American shorelines.