Helvis
Reverence The Sacrifice (Loudspeaker Records)
By: Vinnie Apicella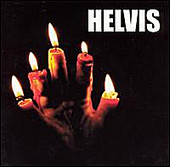 "Reverence The Sacrifice" is fifteen tracks of pure evil. A violent vomit spewing from the vaults of Death Metal and Hardcore, Grind and Punk, Helvis' first U.S. offering is a quick introduction into the realm of wretchedness. Featuring five members and three Kevins, all formerly members of one or another of undercurrent UK legends like Iron Monkey, Cerebral Fix, Pitchshifter, and The Varukers, the music's noisily deranged; the aura cold. "Circle Of Trees" and "Fifteen Sticks" are riff-heavy bouts of old school Thrash and anger as vocalist Bloody Kev's teeth spitting tactics make for a quickly sickening score that's indicative of the discontented tone. "Snail Speech" writhes its way into early age Cathedral/Entombed territory, while it's follow up, "Black Discharge" fondly recalls the likes of Napalm Death, Agnostic Front and Carcass; "Nothing's Changed" is a Varukers' cover -- featuring Rat Varuker on vox -- that speedily slams the jam in a blood gurgling mess that'll sear your senses until it's quite clear "nothing has changed" and life still sucks!

"Underkill" is the old school style Motorhead track we've been waiting for since "Iron Fist," while "Stolen By Idiots" proves a pit worthy addition with a deceptively catchy chorus and drunken babble. "Hand Of Glory" and "Dead Inside," near the end, are a combination of street-bred defiance, velocity and shoddy playing, before giving way to the surprisingly "long" closer -- three and three of playing and cord dangling -- "Tenebrae," which throws everything into the fire to emerge as a highlight of this hellish descent into darkness. "Reverence The Sacrifice" is obnoxious and crude, inducing a rush of blood to the brain with a black and white style that favors brutishness and bad behavior, that'll bullwhip its way into the blackened minds of listeners with a taste for the eerie and extreme.