Desert Sessions
Volumes 9 & 10 (Ipecac)
By: Paul Hullabaloo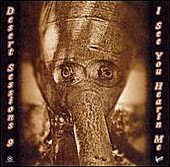 StonerRock movement pioneer and QUEENS OF THE STONE AGE / KYUSS founder Josh Homme has successfully brought together a myriad of guitar rock personalities at his Rancho de la Luna in Joshua Tree, CA, committing to tape fourteen evocative and darkly earthy, spontaneously written generator party recordings. Highlights include the Josh Homme / Dean Ween team-up 'I Wanna Make It Wit You', a BEATLES by way of MASTERS OF REALITY piano based rhythmic track featuring Ween's furiously fuzzed out, left-channel mixed guitar coupled with a layered and dry, lounge-relaxed Josh Homme vocal track. Another mesmerizing composition is 'Subcutaneous Phat', a bristling synth and moog enhanced trance head throb; perfectly showcasing this album's tenaciously eclectic and refreshingly unpredictable nature.

The undeniable centerpiece of this collaborative effort, however, is the incredibly potent chemistry captured here between Josh Homme and the wildly underrated PJ Harvey, an alliance that works on a magnetically intuitive level. I have to admit, I've never really paid all that much attention to PJ Harvey. However, on DESERT SESSIONS 9 she unleashes more raw vocal charisma than anyone in maybe the last 10 years of Rockandroll recording.

Harvey is an absolute revelation, sounding as if she was recorded in the voiding depths of a fissure expanse; her fiercely powerful voice resonating intense authority and steadily unflinching bravado. On the track, 'There will never be another one', she is partnered with an animated Chris Goss flamenco-bullfight acoustic guitar line crafting the foundation of a composition written, performed and recorded in one stunning take. Her voice is ethereally brooding and elegiac; she borrows a bent, wailing Grace Slick sadness bathing herself in an unbelievably potent amount of lushly imbued reverb; breaking the space that she is recorded within, emptying the vacuum of her center, caterwauling with a perpetually erotic pathos. Her performance is passionate, breathy and deeply physical; there is an organic sexuality shifting through her register.

On the album's 3-minute single, 'Crawl Home', she displays perfect cohesion with Homme; Harvey retaining her consistently airy, elemental sound on the verses, while Hommme lends his perfectly arrogant, iconic and neo-classical rock falsetto to the choruses. The voices are conversational, interacting with each other almost theatrically, playing roles. It is here Homme most predominately works his patented mastery of vocal engineering, exquisitely layering his delicate voice to match the unbridled command of Harvey's ripe singularity. Homme hits such a fucking stride on the track 'In my Head--or Something', a teasingly subdued track that could have easily been a QOTSA B-side. The key to Homme's guitar production philosophy is evident here, which is his ability to handily camouflage his instinct for hook dominance.

These songs are catchy as a motherfucker, but they are never pop-obvious, or distractingly showy. The hooks here, as in QOTSA, are cleverly hidden in the hypnotic wash of bristling, structured syncopation and melancholic riff channeling. The album is separated into two parts, each seven songs. Personally I think that the first half is a bit more powerful and transcendent than the second, but that's forcing myself to be nitpicky.

This is an inspired effort that rivals the confidence of any rock album released this year and adeptly stands up to the test of multiple listens; I have yet to take it out of my personal rotation. I highly recommend this work if for nothing else than to continue to chart the progression of Josh Homme, an artist definitely on his way into the true pantheon of evolutionary rock performers.