Canada Calling! With Your Host, Bruce "e-Mole" Mowat
This Month's Topic: e-Mole Vs Nardwuar, the Human Serviette
By: Bruce Mowat



Commentary by Vince McNugget and Roddy Pipecleaner, Rockcrit Wrestling Federation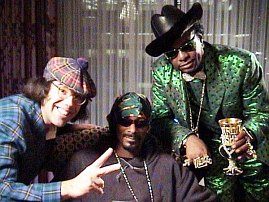 VM: Ladies And Gentlemen, the Canadian featherweight RockCrit wrasslin' match of the century is about to begin!
In this corner, weighing 155 lbs stretched over six feet (I can say that because this is a non-metric country...) the Slammer from the Hammer, that Curmudgeon Of Curmudgeon's B.F "e -Mole" Mowat. Best known for publicly garrotting in print the questionable aesthetics of Aerosmith, Marilyn Manson, and The Brian Jonestown Massacre (to name but a few) the e-Mole has his temper switch on mean most of the time.
RP: Watch out, this could get ugly quick!
VM: and in this corner, weighing..well, less than he used to: Nardwuar, the Human Serviette of Vancouver, British Columbia. He's been slimming down, you see, since that mild stroke incident happened back a few years ago. You want credentials? Nard's got more than a few of his own: he's one of the MuchMusic West Coast reporters, he's written for a billion zines...
RP: And he's got plenty of help in his corner! I see John Collins from Zumpano and the New Pornographers in the Nard posse..and HE has a personal grudge against the e-Mole, dating from that withering slam of the NP's this past summer.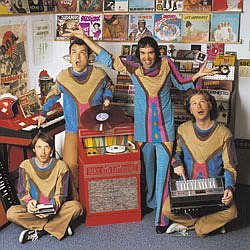 VM: They're all wearing jackets that read "The Evaporators". That's the name of his band, right?...Rod is it me, or are most of the Vancouver recording acts comprised of the same six people?
RP: I've seen Collins turn up in cards with a tag-team called the Smugglers...but hmmm, I don't see Kurt Dahle's name on the Evaporators' Ripple Rock CD program, so...
VM: Nice Ski-doo on the Evaporator sleeve, Jack!
RP: My name's not Jack! I'll say this for the Evaporators: I'd rather hear their brand of high-speed doofus pop-punk than the New Pornos...what was wrong the old pornos anyway?
VM: Who knows? Get a load of the titles on this program: I Feel Like A Fat Frustrated Fuck, I've Got Icicles On My Testicles.
RP: HA! Were those autobiographical, McNugget? Nardwuar's got a knack for digging up the hopelessly obscure: I mean, who else would cover the Hot Nasties' Barney Rubble Is My Double? Or spend a good deal of liner note copy detailing his obsession with the Cardboard Brains or the Pointed Sticks, bands that meant jack SQUAT back east.
VM: Now, now Rod, I happen to know that the e-Mole's pal and webmaster, the late, great Dave Jones of the Iguana Puppets, was a Sticks fan. And the e-Mole has relatives who - gasp - work for the Liberal Party! Just like the dude in the Hot Nasties!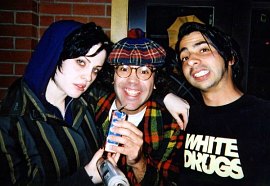 RP: I Say that On Purpose To Bug You...well, that about sums up Nardwuar's approach to interviewing. If that helium-induced, high-pitched voice doesn't get you, his inane jabber and mannerisms will...I mean, this is the guy that told Mikhail Gorbachev to "keep on rockin' in the free world."
VM: Ah, ah, ah Pipecleaner, The Nard knows his stuff...and he keeps in touch with the rest of the world via that website of his, http://www.nardwuar.com/.
RP: I'll say these for the geek: he's fast. Of the 18 cuts on this program, only two exceed the 150 second mark.
VM: And that include solos! Rod, the Nard's a real patriot, too. I mean, outside of Stompin' Tom Connors, can you name me one other guy, who would write about such Canadiana figures as that commie spy, Gerda Munsinger?
The e-Mole would turn Canada into the 51st state, if he could. Look at him: he writes almost exclusively for American publications. And that other guy he writes for, Chris Stigliano. Isn't he slightly to the right of Attila The Hun?
RP: What's wrong with Attila? I thought Canada already WAS the 51st state!
VM: Waitaminute..what's the e-Mole doing? He's smiling...he's going over to the corner...THEY'RE SHAKING HANDS...he's pulling out a notepad.
RP: He's Interviewing him. Wow, what a switch. Let's listen in!
e-Mole: How's your health these days?
Nardwuar: I am feeling much better now: thanks! I am so happy to be able to rock!
e-Mole: I don't know where to start. Is "One" really "the loneliest number that you'll ever do."? How "DOES the light shine in the whole of Shambala"? "How can people be so heartless?" "Want some whiskey in your water?""Sugar in Your Tea?"
Nardwuar: I am really bad at Three Dog Night trivia: except for the fact, in his book, Three Dog NightMare, Chuck Negron talks about how his dick "split" because of too much sex.
e-Mole: Well, thank you Nardwuar, The Human Serviette!
VM: That's IT?
RP: That was enough for me! Three Dog Night? !!! What was he THINKING?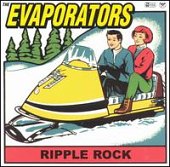 VM: (reading from press release) The Evaporators' Ripple Rock on Alternative Tentacles in the U.S. and Mint Records in Canada, and on 8-Track???!!! (see http://www.theevaporators.com/ for details)
RP: It takes a special kinda geek to put out an 8-Track!
VM: You said it, Pipecleaner. Stay tuned for more squared circle action on most of this same station!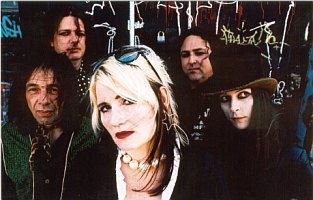 Joy To The World/all the boys and girls and what makes me jump for Joy these days is Turbulence, the long-awaited debut CD from Hamilton's Poisoned Aeros. The Aeros do not get moo'ed over by the middle-brow ink-squirts, but they are far more accessible to people who still dig getting a physical kick from their boom boxes.
It took three years and as many guitarists to create the 11 songs on this disc, but it still sounds like that good ol' chugga-chugga whomp whomp to me. Imagine a fleshier In The Flesh-era Debbie Harry fronting a coherent version of the New York Dolls. There's chunky guitars played by chunky guitarists, with some Glitter pin-striping on the part of Buckshot BeBee and Rosemarinus, the femme singers, but don't be fooled: it's not all toffee n'tea. Specifically, Picture This, deals with domestic abuse, a hot potato topic that would out of the little league of most of the new crop of overly fey, sensitive pop/singer/songwriters currently making the rounds. The closing rendition of the New York Dolls, Puss N' Boots, features one of the last living Dolls, Syl Sylvain hisself on guitars. Listen to http://www.creativeradiocentral.com/ this month for music by Syl and The Aeros. And as a bonus, you get a blank CD-R so as you can burn a copy for your skeptical friends. I bet the RIAA's gonna l-o-v-e that! To get the goods, it's best to go to straight to (double) Hell.


Send any and all parcels to: #3 431 Barton Street East, Hamilton , Ontario, L8L 2Y5.
Next Month: Finally, the pop-killing machine known as Shallow North Dakota. a trio heavy enough to be worthy of Japanese kudos. I might thrown in some words about Luxury Flats, too!