Pain Bastard
Skin on Fire (Accession-Records)
By: DJ CYBERCHRIST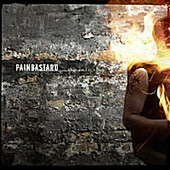 Will cause you to dig out your old EBM classics.

If you like your EBM hard-hitting and edgy,and if you wish that Nitzer Ebb would come back out of retirement or that Claus Larsen from LeatherStrip could do that brilliant come-back album, then look no further!

Pain Bastard is here, and he wants to take your soul.

Alex P comes into the fray with a really impressive first album that mixes harsh old-school EBM with modern 303 squelchy techno sounds. It's a good attempt for a first album.

Let's have a look at the highs and lows of having your SKIN ON FIRE.

01. Disappointment

I want to categorise this one. I wanna put it into the "Psychopomps for the 21st Century" box, but it just won't fit. It's just too accomplished. Alex really has managed to get a unique sound that combines heavy old school EBM beats with a very dancefloor friendly soundtrack. And that's no small achievement.

02. Damned To Suffer

Damned to Suffer takes off where Disappointment leaves off. Takes us to a whole new level. If Leatherstrip were to release an album now, this is what I'd want it to sound like. The vocals call out to your very soul - 'I am damned to suffer - damned to fear myself, damned to cry - damned to die' Now that's what I call emotive lyrics, I feel like Alex is baring his very soul, and the music reflects that, this is a powerful song, and deserves to be a dark dancefloor hit.

03. Skin On Fire

Minimal old skool Industrial - think early Suicide Commando - only we have an uplifting strings chorus line, that transports it to another level and sets it apart from the SC references and makes it his very own. I've made it sound like a difficult to listen to track, but far from it, this is a great harsh industrial song, and it's the type of song that reminds me of why I got into this scene in the first place.

Raw emotion, pure passion.pure industrial.

04. All Rights Reserved

The first slightly weak song. It's difficult to put a finger on why. It just doesn't gel as a song. I think the choice of drums is probably high on the list, as is the over simplistic sequencing... Fortunately as with all the songs on this album, it is quite short.

05. Obituary

Now I really like this. It's slow, It's atmospheric, it's powerful, it's Leatherstrip. And I loved Leatherstrip and so does Alex, he quotes them as his heroes in the cover notes.. This is his homage me thinks. And it works.

06. Der Undertan

The best track on the album. It just gets you going. It appeals to the old-skool mentality it's got modern dance elements, it's got the distorted vocal line.. It's a lovely meld of old and new, and totally unique in its overall sound. Both eyes firmly fixed on the dancefloor, PAIN BASTARD have really got a good thing going here, they've got their own sound, and that in this genre is no mean feat. I like it. I like it a lot.

07. Now I Fall (club-remix)

Not sure about the Indian Tabla drums intro, but once this track gets going, it kind of gets under your skin. Do you remember Second Skin? 'I'm Disintegrating'? Well if you don't shame on you, cos they were a great Industrial band circa early 90's, one album wonders.. but I digress, the fact is that Now I Fall reminds me very much of them. And that's no bad thing, because they were great for their time. It's worth hanging in on this remix, because it gets better the longer it goes on. Great use of 303 squelch sounds. 08. All I Regret

'Now he falls!' (pun intended) - Yes, this is where Alex.P falls down. The drums are too retro, and too fast. Too sparse, to raw, nothing to save this one, skip on to.

09. Silence Cleans My Soul

The drums are better. Vocals better. But I'd skip on if I were you.

10. They Stimulate

Keep skipping.

11. Wishful Thinking

And again.

12. Outro

Blade Runner-esque sci-fi soundscape that is spoilt by the vocal line. Would have been better as an instrumental.

* Final Note - Skip back to the beginning, it's where Alex keeps all the good stuff.

This is a very accomplished debut. Sure the last few songs on the album aren't great, and the songs are all rather short, but then was the last time you had a great album right the way through? Alex. P should be applauded for his successful use of old-skool EBM elements fused with modern dance sounds. It really does work. And if you can't take my word for it, well, you're missing out on a great album.

Now, where did I stash my Leatherstrip?