Drunk with Joy
Drunk with Joy [single] (A Maze Records)
By: Jett Black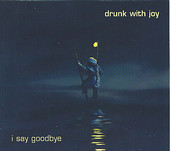 Synopsis: We're Breaking up; I've Moved on; ...to a Future Paved with Gold!

A-MAZE-ing! Look out music labels and distribution! This is IT! The next greatest duo to rise out of the UK is Drunk with Joy. Fem vox provided by Mila Oshin blends vocal elements of Siouxsie Sioux, Portishead, Sarah McLachlan, and Jewel with percussive elements (provided by Kris Jager) which appear to be influenced by Delerium, Portishead, and Juno Reactor (just to mention a few) to develop an intoxicating blend of auditory seduction. In the first track, "i say goodbye", Drunk with Joy takes us to the epi-center of groo-oove! And then, slipping gently into the romantic lullabye of "nothing like you", we transition from romantic departure into a confident rebuttal to the - johnny come lately' approach of the deposed suitor whose affectionate darts have missed the target by a long shot. The final track, "the lucky ones" introduces heavy strings, like perhaps that of cello, followed next by hyper electronic beats and an army of guitars on parade! What began in the opening track as confident but somber, becomes upbeat and carefree, promising "a future paved with gold". Leave this album on repeat to once again sink into the melodic opener, drawing back like a blues-y lounge recital on a play of romantic disintegration.

If Drunk with Joy were not already attached to a music label, my recommendation would most definitely be directed to any preferred independent label toward the purpose of advancing this music further and more quickly into radio programmers and music halls A.S.A.P.! This band music is WHITE HOT! Suggestion: Someone find out whether A MAZE Records is ready to negotiate.