Milligram
This Is Class War (Small Stone Records)
By: Paul Hullabaloo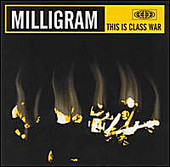 A thunderous harangue of black noise and blood battle decadence, This Is Class War by MILLIGRAM is the colossal sound of a migrant barbarian stampede. This is an album totally self-aware, not just a series of separate tracks, but an unpretentious compositional piece. It has real movement with concentrated design forming up and out of itself, wrought with throttling crescendos of power and destruction forming a thick layer of bombastic swell over a delicate stratum of focused nuance hiding beneath, acting as the nervous system of the LP, controlling and limiting the muscle fashioned around it.

MILLIGRAM are from the same wailing desert generator party school of stoner-rock bands like KYUSS and FU MANCHU, fusing dreamlike, swaying rhythms with melodic hardcore and metal thrusts, bands unafraid of opening themselves up to the accessibility of hooking riff sensibilities. What separates MILLIGRAM from the pack, however, and what makes This Is Class War the best album of its kind, is found in the anchoring vocals. Jonah Jenkins stays away from the genre patterned and overdramatized screaming that tends to sink KYUSS, instead demonstrating an angry, refined sharpness, violently ripping through, as opposed to accommodating, the oppressively dominant musical framework which it exists within. His lyrics are loose and tailored, with subtle doubling and harmonic effects laid in without being distracting. Jenkins also maintains a theatrical, conceptual feel without sacrificing the resonance of vocal drive, which is desperately important to countering and at times shepherding the massive expansiveness of this kind of music.

Darryl Shepard on guitar and Jeff Turlik on bass are a collective of balanced aggression. This album is an absolutely propulsive guitar assault; an overblown and distorted low-end engine, structurally tight enough to pull off an elaborate series of mirroring unorthodox time signature changes with a symphonic pattern of assault.

Zeph Courtney on drums shows a preternatural instinct for systematic rhythm, he is the centerpiece and foundation of the music, his percussion is swinging, mechanical and at times almost artificially intelligent.

The album's peak comes midway with the composition "Saturation Emission", a bobbing, repetitively weaving song with a meticulously structured breakdown which falls apart directly into "She's a Prostitute", a raw, menacing riff-growl.

Another highpoint is a twelve minute, abstract and unaffected guitar pedal solo called "Death To America" (briefly the album's title) which is smart enough to just drone on alone at a thoughtfully underwhelming pace, misleading the listener into a state of quiet ponderance. This track is perfect headphone music for late nights laid back on the carpet, eyes closed, arms spread out. This Is Class War also showcases some exquisitely exaggerated and consciously distorted production values; the needles here are entirely in the red. The engineering is clever and clearly utilized as an additional and equally important instrument, with a liberating openness of volume and a feedback fuzz that permeates and colors the underbelly of the album in its entirety. This is another beautifully crafted album out of New Alliance Studios in Boston, the controls handled confidently by Andrew Schnieder.

This album is powerful and unbridled, deservedly influential on all levels and easily the peak of its overlapping genre. It is a dark and uncompromising anomaly, eclectic and amazing; a tremendous statement for a band which has already sadly dissolved into the communal ether of smoldering clamor and weighted beauty.