VARIOUS ARTISTS: Freddy Vs. Jason
Soundtrack (Roadrunner Records)
By: Vinnie Apicella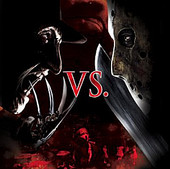 An age old battle of evil versus-- evil, finally reaches its chilling climax when Horror's two most popular figures do battle in what should prove to be a box office windfall amongst splatter movie vets and ostracized youth of the white-eyed variety. And with the roster of today's most popular heavy bands buried here for twenty stark, dark, and surreal tracks, looks like the powers at Roadrunner won't make off too badly either! With some 30-something sequels between 'em-- seriously, who remembers, but okay, maybe sixteen or seventeen, the "Freddy vs. Jason" confrontation had to happen -- "Nightmare On Elm Street" vs. "Friday The 13th," four-fingered slasher vs. machete man; Two infinity driven madmen who were among the first to ignite the genre in the early '80s, somehow managing to survive every conceivable method of death to rise up and kill again, now face off against each other in 2003, and the one left standing gets their pick of the litter of hard to kill supernatural thrill seekers headed by Pee Wee Herman.

Where many previously released Horror flick S/T's generally pick apart the bones from an age-old carcass, "Freddy vs. Jason's" music is a refreshing look ahead as many participants showcase new music for first time listens or latest editions. Hard Rock and Nu-Metal type superpowers like Spineshank, Slipknot, Hatebreed, and Sevendust unleash a fiery mix of unreleased material especially for this momentous occasion, headed by Slipknot's insanely aggressive "Snap" from their '97 demo that's as brutally ugly as the man behind the (pardon the pun) mask; Existing tunes by Powerman 5000 doing "Bombshell," Nothingface's surprisingly personable "Ether," In Flames' "Trigger," masochistic, modern-edged Thrash, and Type O's closing thoughts on the very balmy "(We Were) Electrocute."

Highlighted and/or surprising moments appear in the form of frontrunner Ill Nino going all groovy and Def-tonic on the sorrowing first single, "How Can I Live"; Spineshank mixing roar with retro on their catchy and clammy, "Beginning Of The End"; From Autumn To Ashes' "The After Dinner Payback," In Flames-style melodic Power; Then there's the glut of Pearl Jam / AIC /Tool sound-alikes with the Goth-inspired hook and freaky chorus. And what gore-track would be complete without the one and only Alice Cooper who proudly appears courtesy of the Murderdolls' sound-alike singer doing "Welcome To The Strange!" Cover your eyes and cup your ears for this horrifically satisfying mix of chilly night air and piercing screams put to music from mostly new and proven talent dotted with dead weight and all hyping the kill factor times ten!