INTERVIEW: Social Distortion
Mike Ness on politics, new album, and touring (Social Distortion's web site)
By: Alex Steininger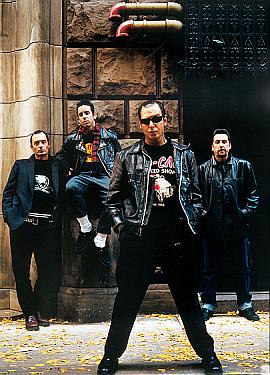 Formed in Orange County, 1978, and releasing their debut full-length in 1983 (Mommy's Little Monster), and taking over four years to release the follow-up, 1998's Prison Bound, Social Distortion, fronted by the charismatic, bad-ass-ness of Mike Ness, has always taken their time. And they've always done whatever they wanted.

With recent tragedy striking the band -- longtime guitarist Dennis Danell passing away at 38 years old of an apparent brain aneurysm -- Ness contemplated the band's next move.

Deciding, with the support of Danell's friends and family, to keep the band going, Ness and company recently embarked on a national tour to "let the fans know we're still alive, and that we have a record coming next spring," Ness told me.

"We're demoing new material and pining down a release date for recording," Ness informs me when asked about the band's status. "We're thinking we'll record in mid-November."

The band's last studio record, 1996's White Light, White Heat, White Trash (550 Music/Epic), spawned a moderate MTV hit with the first single, "I Was Wrong", and continued with the band's tradition of melding street punk with sharp, biting melodies, and a harsh, in-your-face-attitude. Followed by the release of Live at the Roxy (Time Bomb) in 1998, nothing has been heard from the band record-wise in over five years.

"We like to take our time between records and play the songs at our live shows for a few years so audiences know the songs before we record them," acknowledges Ness when asked about the seeming hiatus between each record. "It's backwards marketing, I know, but it works for us. Always has. We know which songs are going to be fan favorites on the record before we even record them."

He pauses and then informs me, "'Sick Boys' was a hit before we knew it."

Pausing yet again, he continues by re-assuring me that "Playing the songs live and road testing them in front of the crowds, before we go and record them really has worked to our advantage -- always!".

But, in between records the band does not stay idle. With a grueling tour schedule intertwined with constant demo'ing, to the average passer-by it may seem the band takes vacations after each record, but to anyone that is familiar with Social Distortion, that notion is preposterous.

"We've been demo'ing for the past two years, off and on," says on the band's absence. "Now a lot of the songs only need lyrics. I got a lot down, musically, that is, and now I just need to write lyrics for those songs."

Ness also told me that they have plenty of songs to choose from, so much so that the band has had trouble deciding which ones will get recorded for their forthcoming full-length due out in the spring of 2004, and which ones will be saved for the next record.

With so many songs to choose from, it poses a problem for the band: narrowing down the album to a 13 to 14 tracks.

"If I could narrow it down to 13-14 songs, I think the record is written and done," laughs Ness. "Now we just need to actually go into the studio and record it".

If their recent show in Portland, Oregon, part of their pre-recording tour to let fans know that they still exist, was any indication, the band has never sounded tighter and or stronger. And, the new material they previewed seemed to add credence to Ness' believe that the next record will be their best, a hard task to do when your band is nearly twenty-five years old.

"I'm excited about it," Ness tells me. "It will be a modern day 'Mommy's Little Monster'. [It will] retain our traditional sound and show progression as well."

"We've added a B-3 (organ) player to the band," he explains further. "It's added a subtle sound to the band, but showed a growth in our sound as well."

Ness says old hits like "Story of my Life" and "Ball and Chain" sound new and invigorated with the B-3, noting the change is ever-so-subtle, but enough to cast a whole new light on the band and really diversify their sound.

As for the band, Social Distortion includes bassist John Mauer (who has been with the band since Prison Bound), as well as new guitarist Johnny "Two Bags" Wickersham (ex. Youth Brigade) and new drummer Charlie Quintana (who handled drum duties on Ness' solo tour and second solo album, Under the Influence).

"They both add a new dimension to the band," comments Ness.

"It is very sad that Dennis died, but I'm glad we didn't throw in the towel after he passed away," Ness says when the conversation turns to Danell, their former guitarist. "Charlie [Quintana] joined Social D. because we bounded on the solo tour, and I knew he was the guy for the job. And, Johnny's an old friend.

"I'm also glad that we didn't do the record two years ago, when [the two of them] joined. We've been playing together for the last two years now and everyone has found their spot and got past the awkward stages where people didn't know their place. Now we're all comfortable and tight together, so we'll make a better record because of it."

Now that the band has finished with their fall touring, and are gearing up to hit the studio to record, energies seem high. Though, long gone from Sony (who released White Light, White Heat, White Trash), and with their current label, Time Bomb, not releasing any new records, Social Distortion is without a home. Which, doesn't worry Ness one bit.

"I haven't even thought about it," responds Ness when asked which label he hopes to sign with. "We're in a great position. We could do it ourselves. It would work better than our relationship with Sony did. It's always great to have choices. We're not opposed to shopping it around to indies or majors. I don't care if an indie or a major puts it out, just as long as they can meet our needs. We don't want any big ads, just street level, guerilla marketing.

"I want a finished product to shop. No excuses, no input. I want to make a record where I can say, 'If you want Social D, this is what you're going to get'. I want to give them the real deal, something that says, 'this is what we're all about'."

Ness seems more concerned with finding someone to mix the record, than he is with finding a label.

"We can get [the record] to tape with a good engineer. We can get it to tape and make it sound good, we just need a good mixer so it doesn't sound too lo-fi (muddy) or too produced (too glossy and produced)," Ness says of the band's immediate needs.

As the conversation turns from the current record to a recent incident where Ness knocked a show patron out cold, the conversation turns to somewhat of a political discussion, much to the delight of Ness, it seems.

"I've been getting more politically educated," admits Ness. "Rumsfield is a cocksucker; I can't even watch him talk. And, George Bush is a duche bag."

As for the incident at the show, Ness reports that he "made the mistake of giving someone a microphone at a show. He was spouting off and I gave him a chance to talk. He said 'If I hear you say one more thing about my president, I'll come up on stage and kick your ass you ni--' and before he could say the word, he was out cold. I drop kicked his ass. Racism is not allowed at a Social Distortion show.

"I drop kicked him before he could say nigger. I beat him down and then the security guards carried him out, feet first. I don't do that a lot, but-- I would have killed him if I were black and he called me a nigger."

Ness says this attitude stems from the fact that he believes entertainers have a responsibility to reach audiences.

"There are kids who look up to me and say, 'Hey, you talked about racism in your song, that is so cool.' Public education isn't going to teach them the truth. So hopefully I can teach them something and they'll walk away going, 'that is so cool, I agree with him.'," he says of his responsibilities as an entertainer.

"If [the kids] go to another show where teach them racism is cool," he pauses for a moment before continuing. "They're very impressionable. So I teach them it's lame to be racist, lame to not have a job, lame to cheat on your wife, and lame to do drugs."

But will this growing political influence of Ness' seep into the forthcoming record?

"I don't like to write albums about certain themes. So, no, the new record won't be all politically minded," he says adamantly. "But, I've always written political songs. Songs like 'Don't Drag Me Down'. That's a political song. I mix politics in with the rest of my songs."

Ness is a man of his word. As such, I eagerly anticipate the next Social Distortion record this spring, on an as-of-yet to be determined label. And, as any Social Distortion fan can attest to, it will most likely be hungry, driven, loud, and in-your-face. Ness and company wouldn't have it any other way.