Pillow Talk (Adam and Eve)
By: Evelyn James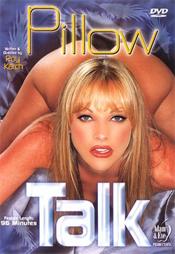 Porn should be hot. It should turn you on to the point where if you don't get laid right then and there that you shove your hand down your pants and do the dirty deed yourself. Adam & Eve's Pillow Talk not only has too much of a story line (If we really wanted to watch a movie with good acting we would've rented Braveheart), but it uses trashy girls that perform only average boring sex. The whole concept of porn is sexy chicks, greasy guys with big cocks and holy-shit, fantasy-fulfilling sex. Now is that too much to ask for? This flick uses blah girls (Michelle St. James resembles a cross between Bill Clinton and Pamela Anderson) who simply can't fuck. Although honorable mention goes out to Lezley Zen and Shayla La Veaux (by far the two best looking women in the film) for their lesbian, dildo-banging scene on the pink faux-fur carpet.

It was just so disappointing to see self-proclaimed porn stars not know how to porn. When I or anyone else spend a hard-earned dollar to see a woman on film giving one of the worst blow jobs ever to be seen (which is surprising because you'd think that after giving over 50 you'd start to learn a few tricks of the trade)- it makes the film lose its sexual credibility and my attention. It can simply be summed up by this: 96 minutes of bad tit jobs and ingrown hair infested genital regions later I sat on my couch- vibrator in hand with no orgasm to speak of, now that just isn't good porn.