Android Lust
The Dividing (Projekt Records)
By: Vinnie Apicella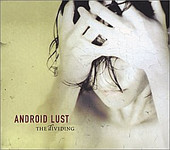 "The Dividing" is a compelling work of electronic music multiplicity. Led by Shikhee, a subtle and domineering presence for lyric and voice, Android Lust's latest is a venture into darkness where fear, dread, regret, and self-discovery bubble to the surface in a hot flash of human emotion wracked over taut techno beats and rich ambience. "Division" begins by recalling the mournful chant of the ancients over a haunting echo and suggestive, nearly derisive view at the broken social condition; oppositely, "Kingdom Of One" sees AL wailing out against prevailing egoist tendencies over a sadistic Industrial Rock heaviness; "The Want" is among the high powered dance tracks with Techno beats and a variety of electronic impulses to spice up the insatiability factor written within; In kind, "Stained" slows the pace while maintaining the electro-effects and sultry swoon of Shikhee, the singular feminine presence and acrimonious force behind the rush of atmospherics that shift from calm to turbulent at the drop of a doubt.

Android Lust is a convergence of elegant Synth-Pop, disquieting EBM and industrial strength intensity spotlighted by the soulful if disquieting delivery of Shikhee, the combined equivalent to the Pop sweetness of Berlin's Terri Nunn and the inspired rage of Skunk Anansie's Skin. "Fall To Fragments" reveals a softer shade to the singer's soul searching, effectively "shedding the skin" of self-doubt and deceit for a stirring, danceably catchy track characterized by turbulent Middle Eastern gusts of percussion. Such soon give way to short bursts of ravenous desire with the savagely intense "Sex And Mutilation" before winding down the "Division" gently as it began nearly an hour before with the bittersweetness of "Burn," a lovely string and acoustic-led number that's desperate and disapproving in tone, beautiful yet somber. Much the same could be said of Android Lust's latest, a richly textured and sharply defined work that's not afraid to confront conformity or challenge one's own self-worth.