Paul Weller
Live at Braehead DVD (Sanctuary Records)
By: Alex Steininger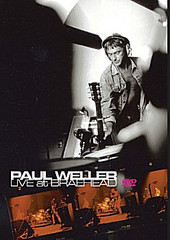 Recorded October 16, 2002, on the second night of a two night stint at Galsgow's new venue, Braehead Arena, in support of his latest album, Illumination. Paul Weller and associates - Steve White on drums, Damon Minchella on bass, and Steve Cradock on guitar - put on a spectacular rock show that spans Weller's career. From The Jam to the Style Council, and playing material off all his solo album, Weller puts passion and intensity into every note.

Part of the reason for the intensity was Weller had a point to prove. Unhappy with the previous night's performance - the first night Breahead Arena ever had music - Weller came out on fire this night, delivering a stunning, awe-inspiring performance that proved why Weller is a musical legend.

With thirty songs and over 2 hours of music, this is a stellar, high-quality DVD that fans of Weller will surely enjoy. I'll give it an A.