The Best of Insomniac with Dave Attell
Uncensored Volume 2 (Comedy Central)
By: Alex Steininger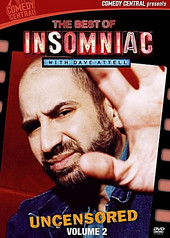 Uncensored! That's all I'm going to say.

OK, maybe I'll say more, but let's make one thing clear: The Best of Insomniac with Dave Attell: Uncensored Volume 2 is just that - uncensored.

A bit more nudity, all the swearing, and lots of obligatory partying, the kinds of stuff you've come to expect from your beloved host of Insomniac, Dave Attell, is found on this 2-disc set.

Including commentary from Attell himself, and the show's producers, and plenty of deleted scenes, Uncensored Volume 2 is a must for any fan, or even any novice of the show.

This DVD collection is the too-hot-for-television version of what Attell does best, find people, find people drinking, and watch as everything snowballs into a hilarious, non-stop party.

Including material from Las Vegas, Amsterdam, Key West, Miami, Boise, Kansas City, Anchorage, NYC, Austin, and Charleston, Insomniac keeps you up all night watching as others stay up all night.

Ah, the beauty of living vicariously through people.

I'll give this an A+.