Fountains of Wayne
Welcome Interstate Managers (Virgin Records)
By: Alex Steininger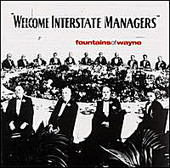 If you listen to adult contemporary radio or modern rock stations, or watch MTV for that matter, you've probably heard the infectious "Stacy's Mom", the lead single off of New York City pop outfit Fountains of Wayne's third full-length, Welcome Interstate Managers. Continuing with the tongue-in-cheek quirkiness that has made them one of power-pop's most radio friendly, cult favorite bands, Welcome Interstate Managers also contains the big guitars, hooks, and layered arrangements that make Fountains of Wayne such a perfect fit with fans of guitar rock, power-pop, and hook-laden music in general.

Songs about falling in love with your friend's mom ("Stacy's Mom"), how much you hate your boss and love your girlfriend ("Hey Julie"), and how one needs to stop fucking around and get to business and make some money ("Bright Future In Sales") are among the highlights. But, each of the sixteen tracks on this album are flawlessly executed with so much saccharine and so much flair that you can't help but sing along track after track and fall in love with the band each time a new track comes around.

"Little Red Light" is another amped up rock song, as is the aforementioned "Bright Future In Sales", while songs like "Hey Julie", "Halley's Waitress", and "Hackensack" all showcase the softer side of Fountains of Wayne. From the bouncy acoustic guitar of "Hey Julie", to the harmonies on the slow "Hackensack", and through the molasses (yet still boppin') pop of "Halley's Waitress", the band proves they can rock it up and make it sound good, yet not miss a bit when the speed is dropped and the vocal harmonies kick in.

A stellar listen from start to finish, co-conspirators Adam Schlesinger and Chris Collingwood once again outdo their previous efforts and deliver power-pop and pop-rock the way it should be: loaded, charged, sugary, sweet, and ready to go. I'll give this an A.