Camber
Wake Up and Be Happy (Deep Elm Records)
By: Alex Steininger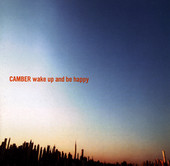 With new drummer, Roger Coletti, who replaced original drummer Chris Chin, and the core line-up of vocalist/guitarist Barry Lott, guitarist Corby Caldwell, and bassist Joey DallaCroce, Camber seem alive as ever.

A New York quartet, Camber's latest, Wake Up and Be Happy, embraces the mid-90's alternative rock scene. It also plays with post-punk excitement, using more guitar noise than pop hooks. Which keeps them from ever been referred to as a pop band.

Camber keep things loud and strong throughout Wake Up and Be Happy, never letting up, even when they slow down. They lay the intensity on as much as they can - without losing sight of the fact they want to play with a lot of guitar juice, hammering drums, and plenty of thump from the bass. Yes, sir, they are a band that came out of the 90s and still appreciates good guitar-rock. I'll give it a B+.