Me First and the Gimme Gimmes
Take A Break (Fat Wreck Chords)
By: Alex Steininger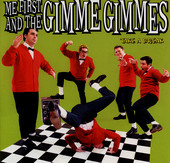 On their forth full-length, Southern California's pop-punk super group, Me First and the Gimme Gimmes deliver a collection of R&B covers. Featuring Spike Slawson on vocals, NOFX's Fat Mike on bass, Lagwagon's Joey Cape on guitar, former No Use for a Name and current Foo Fighters member Chris Shiflett on guitar, and Lagwagon's Dave Raun on drums, Me First and the Gimme Gimmes earn all the hype they get.

Take A Break finds the crew covering everyone from Lionel Richie ("Hello"), Prince ("Nothing Else Compares 2 U"), Seal ("Crazy"), and, the icing on the cake, R. Kelly ("I Believe I Can Fly").

Fast, aggressive, and bouncy, these pop-punksters make R&B fun to sing-along with, and make it possible to slam dance, too. And, how can you argue with that? I'll give it a B+.